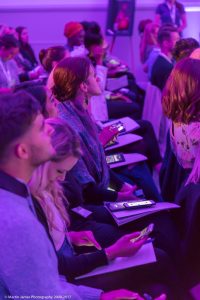 After a competitive three-way pitch process spanning four months, Givergy has awarded Kru Live, the staffing and entertainment agency, a three-year deal as their staffing partner in the UK. The agreement will see Kru Live deliver over ten thousand staffing days in partnership with Givergy's managed event service, supporting over 1,200 annual events which raise vital funds for charity.
Givergy offers a range of platforms to help charities raise more at fundraising events and online. Their comprehensive suite of interactive silent auction and pledging technology drives engagement and competitiveness, while championing the spirit of giving generously at all nature of charity events. The addition of Kru Live will ensure guests at such events will have a seamless experience and fantastic onsite support using the technology moving forward.
This collaboration marks the beginning of a promising partnership between two like-minded and driven businesses who share a vision of delivering an experience of excellence.
Jonathan Douglas, chief operating officer of Givergy said, "We managed things in house successfully for a number of years but, our ever-increasing demand by charities has meant that it was time to handover the reigns to staffing specialists that are recognised for a service of excellence. This enables our team to get back to the job in hand – helping our charity clients raise more through our technology. We needed to be meticulous in our agency selection process however as having the right staff at our events is paramount; it was clear that Kru Live were the best fit for our brand and most importantly our clients and we are hugely excited by the partnership."
Sarah-Jane Benham, managing director at Kru Live comments, "Early conversations highlighted a clear synergy between our two companies; both ambitious in our outlook and passionate about looking after our people; we are confident our partnership will only strengthen each other's business' further. As Givergy continues to grow as the leader in their sector, our partnership will also see us providing bespoke entertainment and celebrity auctioneers, including the likes of Jonny Gould and Adger Brown."
Sarah Porter, client relationship director at Kru Live who oversees the relationship said, "We have become a true extension of Givergy's team, so much so, that our dedicated team here at Kru Live has been named 'Givergy Live' and can be found once a week working out of Givergy's Richmond HQ.  We are already working with the existing 200 strong Givergy event team and are enjoying it enormously. Phase two sees us increase our pool of professional event staff to match worldwide demand which is already underway. We are absolutely thrilled to have been appointed Givergy's sole partner."
For a view into the Givergy & Kru Live partnership view the Givergy Live training day showcase video.
To find out more about Kru Live click here