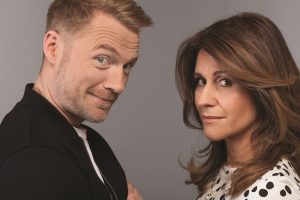 the7stars and Fold7 have launched a major brand campaign for Gumtree incorporating a partnership with Magic Radio.
Initially launching on January 15, the multi-channel campaign includes TV, video on demand (VOD), outdoor and radio airtime. It aims to drive user activity on Gumtree, which is already used by one in three adults a month.
Championing the opportunities available on the site, the campaign encourages consumers to think differently about the role Gumtree can play in their lives, inviting them to use it as a platform to fulfil their own personal missions and make things happen for themselves.
From January 29, the campaign will see Gumtree partner with Bauer Media's Magic Radio to become the headline sponsor of Magic Breakfast with Ronan Keating and Harriet Scott, the channel's flagship show, which reaches 1.2m listeners every day. The campaign will also run promotional trails on Magic Radio, tapping into 3.3m listeners.
As well as on air, online and social activations, the partnership will see Magic Breakfast presenters Ronan Keating and Harriet Scott take part in a Gumtree challenge. They will embark on a six-month project to buy second-hand goods and sprinkle some additional 'Magic sparkle' on them to make the items extra special before reselling them via Gumtree to listeners.
All proceeds raised will be donated to Cash for Kids, Bauer Radio's charity that raises funds for underprivileged and vulnerable children living in poverty in the UK.
Hannah Wilson, marketing director at Gumtree, said: "Gumtree is all about uncovering creative opportunities for our user base of savvy and entrepreneurial consumers. Working with the7stars and Fold7 we have created a unique campaign that will build awareness and excitement around all the opportunities that Gumtree brings."
Jane Power, client lead at the7stars, said: "The New Year is a key time for Gumtree and it has been rewarding to deliver a campaign that kick starts their activity in 2018 and really encourages users to 'make it happen'."
Simon Kilby, group commercial director at Bauer Media, said: "With their humour and genuine talent for entertaining, Magic Breakfast's Ronan Keating and Harriet Scott reach a large, engaged audience of passionate listeners living life in full colour.  Gumtree's Make It Happen campaign has a natural synergy with the Magic brand and we're really excited to see the results of the partnership."