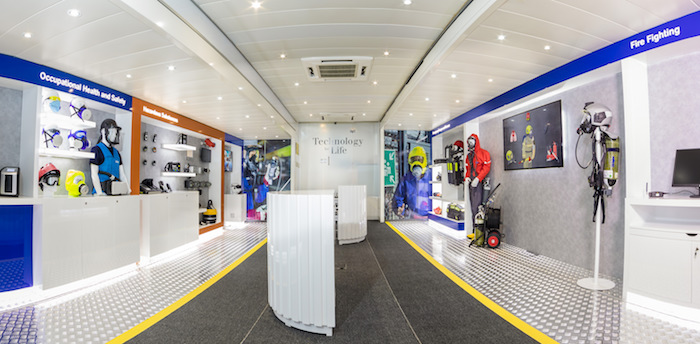 International manufacturer of medical and safety technology, Dräger, will be showcasing its protection and detection solutions on a roadshow across the Middle East to get face-to-face with customers.
Event Marketing Solutions (EMS) will manage the tour, taking the 50sqm mobile showroom to 21 cities across five countries, providing Dräger with the platform to go beyond the trade show floor and reach its target markets directly.
As well as managing the scheduling and operation of the tour, EMS has provided further support to German-based manufacturer in the form of bespoke truck design and fit-out, tailored specifically to Dräger's products, helping them meet the needs of customers across the Middle East.
Visitors to the mobile showroom will have first-hand experience of over 60 of Dräger's market leading products, as well as the chance to join thought-provoking workshop sessions that will provide innovative solutions for the daily challenges faced by customers. The truck will be split between five different areas; prevention, occupational health and safety, hazardous substances, emergency escape and rescue, and firefighting.
This will be the first time that Dräger will be leveraging a roadshow tour in the Middle East, and Koen Paredis, managing director MEA at Dräger explained the rationale: "Customer intimacy has long been one of Dräger's key strengths. This roadshow allows us to strengthen that intimacy by going the extra mile and bringing safety solutions directly to our customers.
"With EMS's expert knowledge and experience of roadshows in the GCC market, we're confident we have found the right partner to support us in this new initiative."
Cassie Kendrew, general manager at EMS's Dubai office, added: "The Middle East is in the midst of an industrial revolution, and with that comes a greater need for industrial manufacturing and occupational safety measures. It's a perfect time for Dräger to adjust their marketing activities to focus on meeting directly with their customers across the region.
"Since opening our Dubai office in 2013, we've seen a substantial shift in the number of global companies increasing their attention to the GCC. As the only roadshow agency based in the Middle East, we've built up an unrivalled level of expertise in the culture, logistics and key contacts required to run successful campaigns that tap into that all-important face-to-face communication."