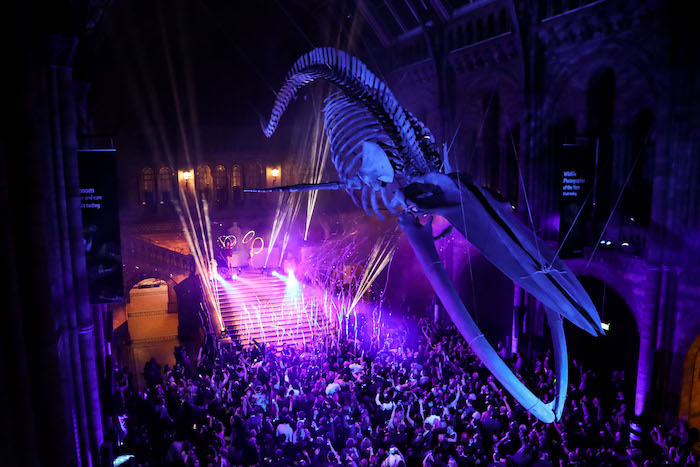 The NHM hosted 700 guests his New Year's Eve who enjoyed 'Under the sea'- themed festivities inspired by the Hintze Hall's newly-installed blue whale skeleton.
The evening saw celebrations of oceanic proportions organised by Amy O'Brien, senior event coordinator, in partnership with Guilty Pleasures who provided DJs and live entertainment. Guests turned out all kinds of fancy dress to kick the evening off in style.
In the lead up to the clocks chiming midnight, attendees could make their own underwater-themed headwear and could dance the night away alongside the presence of live performers in the venue's silent disco. During games of Musical Bingo, guests battled it out marking off songs played in Museum-themed rounds to win a range of prizes from the shop. Revellers also engaged with the latest 'Massaoke' craze sweeping the nation, a mass participation karaoke sing-along with crowds guided by big screen lyrics.
White Light enhanced the spaces with lighting and audio elements to create an immersive experience for the partygoers with atmospheric soundscapes throughout to help bring the nautical theme to life. Dappled water effects washed over the ceiling and architecture and the Museum galleries were beautifully lit in shades of blue and green to complement the 'Under the sea' party environment. 
Three exhibitions Whales: Beneath the surface, Venom: Killer and cure and Wildlife Photographer of the Year were open for party guests to enjoy exclusive private viewings.
In-house caterers Benugo provided drinks, including ocean-themed cocktails, and light refreshments throughout the evening.
Robert Wetherell, head of venue hire and catering explains: "This year has seen a once-in-a-generation transformation of Hintze Hall and been incredible for showcasing the versatility of our event spaces. This 'Under the sea' celebration draws a hugely successful 2017 to a close, and we look forward to further enhancing our offering to events clients for 2018."