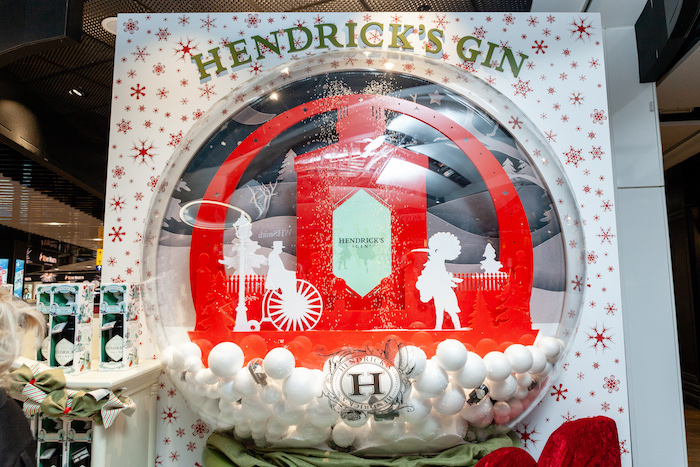 The longstanding travel retail partnership between Hendrick's and Blackjack promotions is bearing fruit yet again, this time with a festive campaign at Heathrow Airport's Terminal 3 aiming to showcase the brand's delicious gins and gifting lucky passengers with an early Christmas treat.
The activation is situated on the prime 'VIP' site in the terminal where travellers can't fail to miss the large snowglobe containing the signature Hendrick's bottle in a 'snow' flurry, while three Blackjack brand ambassadors dressed in dapper bowties greet them with the offer of a free sample drink. Gin-curious travellers can choose from: the classic Hendrick's and tonic, with cucumber garnish; a 'Gin Buck', including ginger ale and fresh lime juice; and the floral Hendrick's Midsummer Solstice gin with tonic – the newest gin to be added to the Hendrick's range which was a great success with travel retail shoppers this summer.
As 'tis the season to be gin-erous, the fun doesn't stop there. "Travellers who try one of our Hendrick's options will be selected at random by the brand ambassadors to receive one of 1,000 branded crackers from our 'Key to Curiosity' chest, each containing a Christmas gift" explained Robyn Freeman, Senior Liquor Account Manager at Blackjack. "Plus, from 12th December, for 11 days, one lucky traveller will get the chance to pull a special cracker containing the prize of a Hendrick's' pourer."
Commenting on Hendrick's' ongoing partnership with Blackjack, Jillie Cooper, commercial marketing manager at William Grant and Sons, said: "We've worked together on promotions for over three years, and the partnership has been a great success.
"The Midsummer Solstice Gin promotion back in June was typical of the results we have achieved together, with customer demand exceeding not just our expectations, but also our stock levels! I'm sure this year's festive snowglobe sampling campaign at Heathrow Terminal 3 will further build on this success."
The activation runs in Heathrow's Terminal 3 until 7 January. Only available to passengers of legal drinking age.