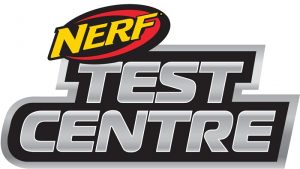 Hasbro toy brand, Nerf, has teamed up with  i2i Marketing, to launch The Nerf Test Centre activation, which will tour the nation from 28 July.
The Nerf Test Centre sees the  Nerf shipping container transformed to feature a never-before-seen photo opportunity area with suspended cars. Consumers can demonstrate the new Regulator blaster from the Modulus range and can experience its new SwitchFire technology. While car-crazed children will be able to blast into overdrive with the latest Nitro MotoFury blaster – this brand-new range of blasters shoot miniature toy vehicles instead of darts. In addition to this, all consumers will come away qualified; with their own Nerf wristbands, driving license and sticker set.
Those entering the Nerf Test Centre will be able to learn about the evolution of Nerf, discover fun Nerf facts and will have the opportunity to test out vintage Nerf products.
The tour will visit six locations nationwide, including: Wimbledon Piazza (28–29 July), Smithy Row Nottingham (3–5 August), Bristol Balloon Fiesta (10–13 August), Briggate Leeds (18-20 August), Trafford Centre Manchester (22–28 August) and Bullring Birmingham (1–3 September).
Lucinda Taylor, Senior Account Manager of i2i Marketing said: "We are very excited to be continuing our great work with Nerf, this year we have given the shipping container it's biggest revamp yet and have added some great assets to make it an open 360-degree experience to our consumers."