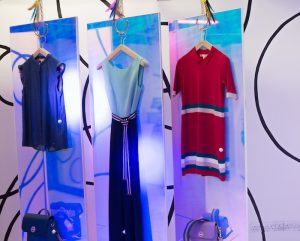 Icon Retail, part of CSM Live, produced and installed all elements of the Ted Baker 'Colour by Numbers' pop-up shop at London's Old Street Station.
The Ted Baker installation, due to end on May 4th, will have been in situ for six weeks.
The Icon Retail team worked through the night for a week to get the store ready for opening. The pop-up employs a clean, monochrome colour scheme, complete with translucent opalescent panels laid out in a graphic zigzag pattern. By using modern materials and shapes, it created a fresh, serene backdrop that echoes the Colour by Numbers collection.
During its 6 week run, the pop-up shop is expected to have a passing footfall of over 1,000,000 people, generating engaging brand awareness for the new Colour by Numbers collection.