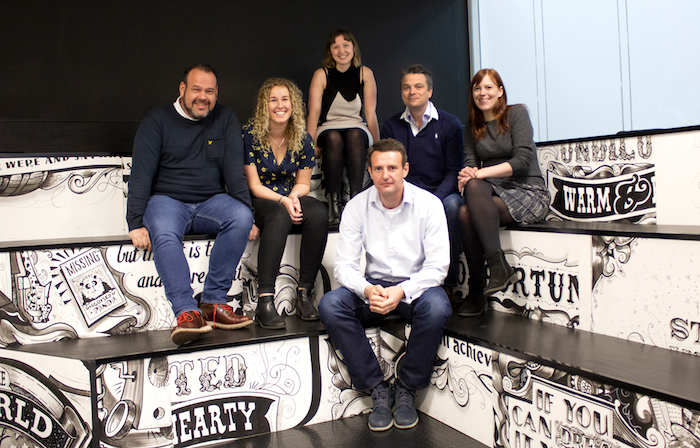 Creative agency Initials has announced the strengthening of its digital offering through the launch of LABS, which will spearhead a more specialised approach to optimising digital and technology infrastructure for its clients.
LABS will be led by two newly-appointed senior hires: Dominic Murray as digital and innovation director and Simon Smith as head of digital operations. They will work alongside Mel Lowings, senior producer, Cally Archibald, social and content strategist and Becky Hipkiss, producer.
Murray, founder of multiple award-winning digital businesses Black Swan Data and Digital Jigsaw, will utilise his 20 years' industry experience to oversee the performance and commercial growth of LABS. His role has been designed to bring clarity and understanding on how to harness the power of innovation and digital products to drive ROI, for both Initials and its clients.
Smith, founding partner of Digital Jigsaw alongside Murray and previously operations director at digital agencies Coinage and Black Swan Data, will harness his knowledge of how data and technology can transform the way brands understand and engage with their customers. Smith will be tasked with managing the daily operations of LABS, taking charge of delivering high-profile global projects.
By finding new ways to look at problems, LABS will connect genuine behavioral insight, cutting-edge technology and smarter software to find answers that challenge the status quo – working across the entire ecosystem of business audit, user insight, digital blueprint, creative origination and development. The offering will give Initials' clients a one-stop digital shop for the first time – covering everything from research and insight to user journey wireframes to full stack development and deployment.
Dominic Murray, digital director at LABS, comments: "It's a privilege to take charge of the LABS proposition. We have a great offering that will help our clients with the ever evolving technology landscape, be that taking into consideration the legacy infrastructure issues that all businesses face, to creating scalable platforms to allow our clients to adapt to consumer trends in the ever evolving social networks – from design and research to rapid prototyping, deployment and in life support."
Simon Smith, head of digital operations at LABS, says: "The launch of LABS couldn't come at a better time. With expert digital talent across the business unit, I'm confident our operations will help deliver transformational ideas that increase business performance whilst demystifying the world of technology."
Richard Barrett, MD of Initials adds: "I've known Dom and Simon for 12 years, when it came to launching LABS they were my number one choices to head up the unit. It's an important time of innovation for us as an agency, as we expand to new offices in Holborn. Initials remains focused on providing marketing solutions in a modern digital world across all our work, but Murray and Smith's brand experience – from Vodafone to Pepsi to Panasonic – combined with their track records in digital innovation, mean they're perfectly placed to transform how Initials approaches digital for our clients."