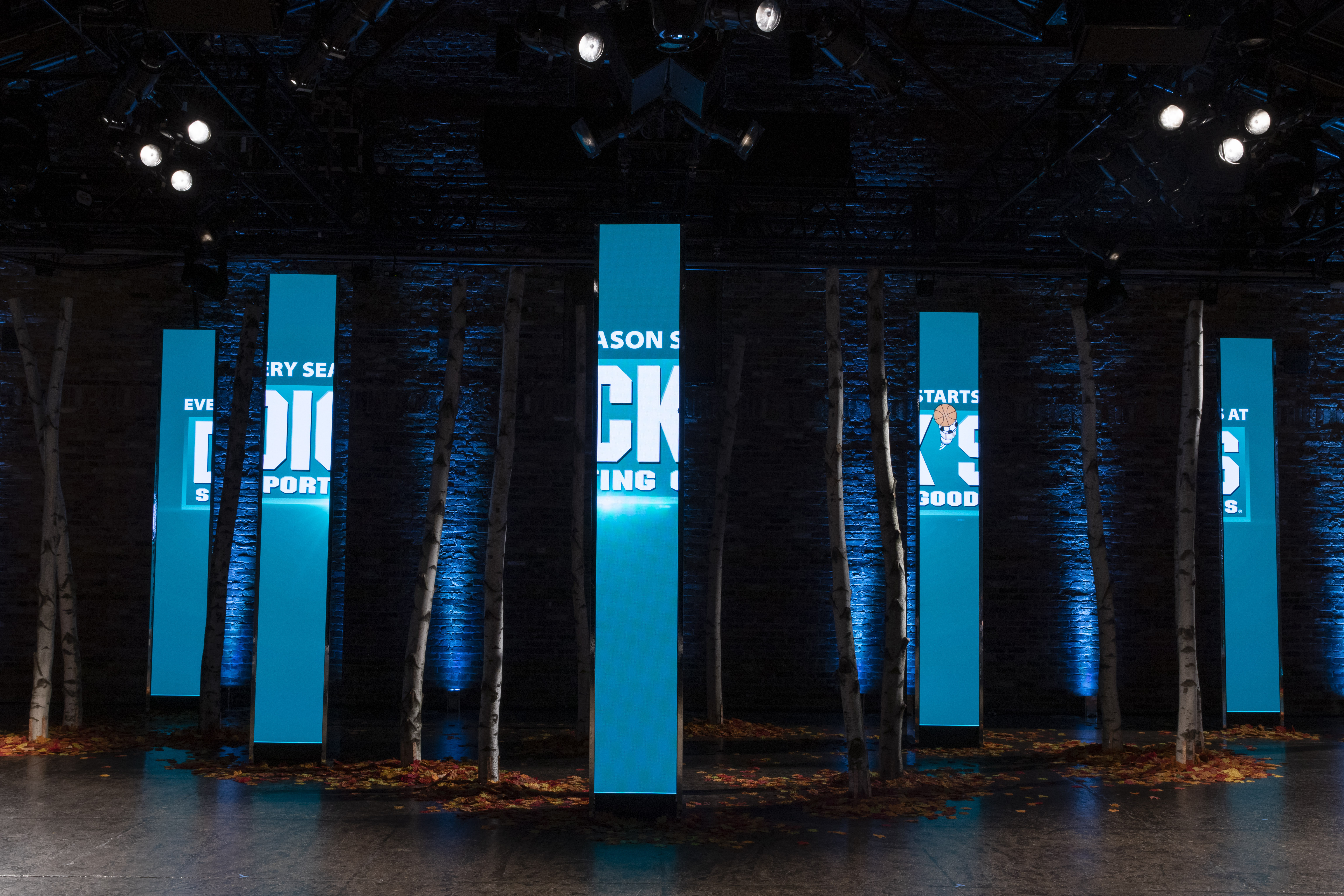 Dick's Sporting Goods, the largest U.S.-based, full-line omni-channel sporting goods retailer wanted to showcase their latest apparel, outerwear and footwear assortments in a way that they had never done before – by hosting a fashion show in New York City.
The brand sought to create a memorable, cutting-edge experience that would take place at the intersection of sport and fashion – a prominent global trend – to unveil its fall and winter looks ahead of the holiday shopping season.
The Dick's team brought long-time strategic partner, INVNT, onboard to ideate, design and produce the entire experience, which strategically and seamlessly blended technology and creativity.
"The event was intended to blend a fashion show and immersive brand experience. This meant having an entry that let guests peek backstage at the model prep area and walk through a red-carpet experience before even getting to the main room," explained Matt Flachsenhaar, senior creative director, INVNT.
As they entered the historic Caldwell Factory in Chelsea, guests, which included a VIP list of celebrities and influencers, were immersed in a digital forest which encapsulated the transition from fall to winter – think orange leaves amid a sea of orange hued lighting – and winter themed courtesy of blue audio visual effects and falling snow. Fourteen vertical LED pillars dotted the room, on three of the four sides, in all quadrants of the dual, intersecting runways, creating 'front row seat' viewing for all attendees. Real-life trees and fall leaves also punctuated the space and added to the show's new season vibe.
These visuals were complemented by two tracks custom made by INVNT, which played as sport and entertainment stars, social media influencers and models walked the runway. All in all, models highlighted nearly 40 trend-driven looks fusing sport and fashion and comprising lifestyle outerwear, footwear and accessories pieces from top brands available at Dick's.
"We wanted to highlight how Dick's Sporting Goods doesn't sell only performance-based gear, but clothes that look good walking around the city. INVNT played on the natural rawness and exposed brick in the space with our digital pillars, showing a traditional fall and winter environment in the city rather than an active, sporty one," added Flachsenhaar.
The show earned nearly 340 media and social placements and 95M impressions for Dick's Sporting Goods. Media outlets including CBS Sports HQ, People, E Online, US Weekly and InStyle covered the experience, and stars who walked the runway all took to their social channels to promote the event. Members of the star-studded crowd shared their experiences of the show via Instagram as well.
"INVNT was a key strategic and execution partner of ours on this brand reconsideration event," said Jennifer Moreau, Vice President of Public Relations and Corporate Communications, Dick's Sporting Goods. "We set out to do something we had never done before as a company, and the energy, creativity and expertise they brought to the process from start to finish helped ensure the event was a success. The event proved to increase awareness of the Dick's assortment by garnering extensive press and social coverage for our fall and winter collections."