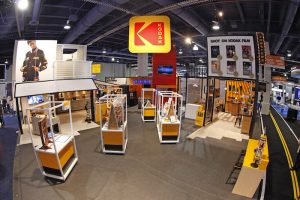 Kodak has launched an immersive and interactive brand experience at CES 2018 – the global consumer electronics and consumer technology tradeshow.
Achieving a stand-out presence at high profile industry events, which demonstrates Kodak's brand reinvigoration and USP, is a key pillar in the brand's marketing strategy. Jack Morton Worldwide, the global brand experience agency, has partnered with Kodak since 2015 to bring this strategy to life.
CES 2018 marks a new chapter in the agency's creative concept 'The Kodak Quarter', which was designed to reflect the evolution of the much-loved brand through the theme of a regenerated urban environment. The  concept was originally developed for the print show, drupa, and brought to life at subsequent brand experiences including the Kodakery pop-up shop in London last year.
For Kodak's experience at CES, the team wanted to celebrate the Eastman Kodak Company's proud American heritage through a homegrown story of urban regeneration – 'Kodak Downtown'. The immersive experience is inspired by the current renaissance of downtown Las Vegas, which is experiencing its own urban regeneration.
Dany Atkins, vice president of brand at Kodak said: "CES is a key event for Kodak, and for the past three years we have challenged ourselves to bring a little Kodak Magic to Las Vegas. This year, 'Kodak Downtown' is an experience that is inspired by Downtown Las Vegas. Kodak is for the Creative Generation and the Kodak Stand at CES is the perfect place to experience the new Kodak Moment."
Kodak Downtown's design brings to life the essence of downtown Las Vegas through retail spaces including Eastman House, Yelo and the Downtown Market. The space allows partners and customers to experience the entire Kodak portfolio in-situ, in retail settings.  For example, Eastman House showcases a range of products based around the home – from printers to home monitors and security cameras. The design of the house is a nod both to Kodak's heritage and the ever-growing culture of private clubs and spaces which inspirire interior design in the home. Yelo' aesthetic is premium retail – taking inspiration from high-end fashion houses and unique retail spaces. The Downtown Market is influenced by pop-up markets, where each has its own personality.
Mike Kunheim, managing director, Jack Morton Worldwide said: "The Kodak brand embraces change and through this pushes the limits of marketing. We're delighted to be on this journey of regeneration with Kodak and feel privileged to be able to help bring this truly evolved brand to life through a series of extraordinary experiences."