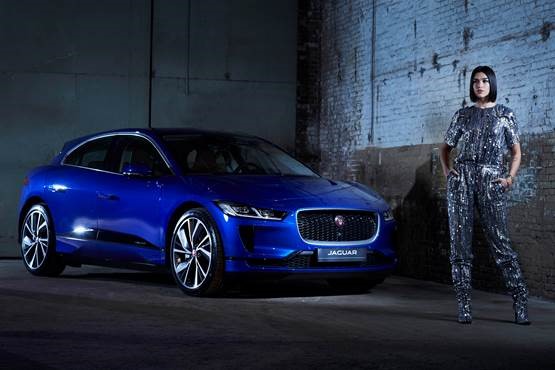 Jaguar has announced a collaboration with singer-songwriter ,Dua Lipa, to launch an  integrated brand-building programme across Europe.
The long-term, pan-European programme, will be rolled in over 15 markets across Europe including France, Germany, BeNeLux, Italy and Spain, and celebrates the brand's SUV models, the Epace,F-Pace and all-electric I-PaceE. It kicks off with The Pace: Season One – a pioneering music and technology partnership with the British-Kosovan artist Dua Lipa.
For the launch, Dua has collaborated with Jaguar to make music in a completely new way. Using custom-made software from Jaguar, she created an exclusive 'Pace Remix' of her latest track, 'Want To' and empowered fans all over the world to create personalised remixes using their own data – from the way they drive, the songs they listen to, or by tapping a rhythm on a mobile device.
Users can engage with the content online and Jaguar's own social platforms and #thepace.
The launch of The Pace programme, spearheaded by a multi-discipline, comms, experiential and PR team at Jaguar Europe headquarters in Frankfurt, heralds a shift in marketing communications strategy for the Jaguar brand in Europe – towards a more integrated, multi-channel, owned/earned/paid approach to build brand awareness and increase familiarity throughout the region. The platform is designed to reach a new conquest audience for Jaguar, specifically for its young, growing Pace family of vehicles.
London-based creative agency The Brooklyn Brothers was responsible for the development of the overall programme strategy, creative concept and direction, leading and collaborating with an integrated team of four key agency partners for development of the platform and the launch activation. The cross-agency partner team consisted of The Brooklyn Brothers (London), Spark44 (Frankfurt),Imagination (London) and dentsu X (Wiesbaden, Germany).
Carsten Balmes, director of European marketing said, "The programme signals a significant and exciting shift for Jaguar's Brand Communications strategy. Our innovative and forward-thinking PACE family of vehicles are serving as a beacon for this shift towards a more integrated Owned, Earned and Paid approach, in order to nurture a younger, more progressive audience.
"Collaborating with an artist as talented and multi-faceted as Dua Lipa has enabled us to showcase the wide range of visionary design, technology and high-performance features that are embodied by the I-Pace and wider family of Pace vehicles.
The launch activity included an exclusive event for 1,000 fans, media, influencers and VIPs at SugarCity in Amsterdam, where Dua Lipa performed her latest hits, and the unique Pace remix of her unreleased track, 'Want To'. Media and influencers were also given the opportunity to create their own bespoke remix of the track by driving a Jaguar I-Pace on the streets of Amsterdam, capturing data from the car's intelligent sensors to personalise the song to every driver.
Speaking at the track's launch in Amsterdam, Dua Lipa said: "I'm so excited to collaborate with Jaguar and push the boundaries of music and technology for my fans. It's pretty mind-blowing that anyone can create their own unique version of my single 'Want To' based on the way they drive a Jaguar, or what music they listen to.
"It's crazy to think that the data from my drive in the electric I-Pace can alter the energy of my music to create a totally new and incredible sound."
Following the Amsterdam launch, drivers in other countries throughout the region will be given the chance to create their own bespoke remixes from test drives in Jaguar Pace cars at special events being held through the remainder of 2018 and into 2019.
Using an  app allows users to remix the Dua Lipa track using their Spotify streaming history – taking data from the music they listen to and rearranging elements of the track to create a personalised version. Those without a Spotify account can also create a remix in the app by tapping their mobile to 'set the pace' of a new version of the song.
The next phase of the programme, The Pace: Season Two, will follow in Summer 2019. Further details will become available closer to launch.