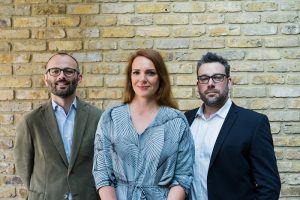 Kit Altin, head of innovation and global planning director at Leo Burnett Group, is joining The Gate London, MSQ Partners' lead communications agency, in May as Chief Strategy Officer completing the new management line-up.
Altin's arrival at The Gate follows the recent appointments of Beri Cheetham, former ECD of Leo Burnett and Jamie Elliott, ex-CEO of MullenLowe London both of who have been in place since the start of the year. The agency has gathered momentum since then, winning two pitches and gaining spots on the Greater London Authority and CCS (Government) rosters.
Her brief is to sharpen the agency's strategic offering (which includes brand, creative and channel planning capabilities), to help build the 'Boundless' culture and to lead the development of highly-effective strategies for clients seeking a modern, channel-neutral approach to modern, complex marketing problems.
Altin, an IPA Woman of Tomorrow, was the Founder of Leo Burnett Change, the division dedicated to social change. Most recently, she has been the planning brain: on P&G globally; behind McDonald's epic multiplatform Olympics campaign "We All Make The Games" which won the Marketing Society Awards for Excellence Gold; and, on a number of NSPCC campaigns that won IPA Effectiveness and EFFIE Gold as well as many other awards. She is involved with D&AD as a leading member of their professional training faculty and as a judge of the New Blood Awards. In 2016 she joined the Board of the Marketing Agencies Association (MAA).
Jamie Elliott, CEO of The Gate London, said: "Kit and Beri have a chemistry which has won pitches and led to highly-awarded work before. Kit's a thoroughly modern strategist, a strong leader and has a great entrepreneurial spirit that fits perfectly with our 'Boundless' culture. We're massively chuffed she's joining us."
Tim Lindsay, non-executive chairman of The Gate Worldwide and CEO of D&AD said: "'Kit Altin has a terrific reputation as a strategist and is consistently rated as one of D&AD's top trainers'
Altin added: "This mix of ingredients is very rare indeed: a perfectly-matched leadership triad; smart integrated thinking; a bold new creative direction, in-house channel planning and buying and the multi-disciplinary offering of the wider group – all wrapped up in our shared vision of a truly entrepreneurial culture with ambition to burn.  Beri and Jamie are my dream team, and we're going to build something brilliant."