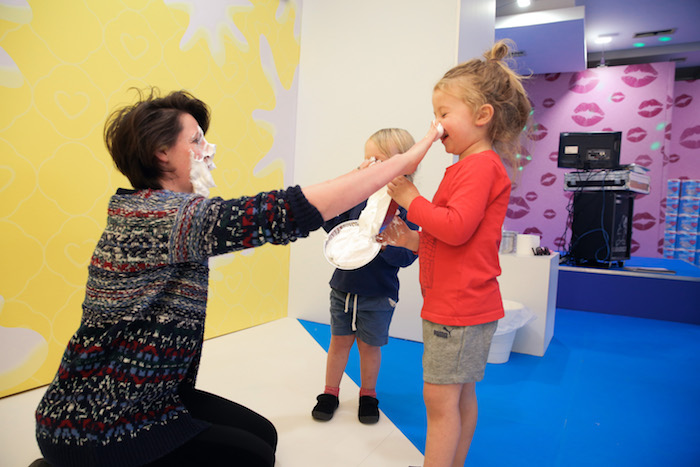 KittenSoft, the toilet roll brand sold exclusively in Ireland and owned by Sofidel Group, staged a massive relaunch in the heart of Dublin on 15th August – its 'SuperMams' pop-up shop played host to an array of toilet roll-themed activities.
The relaunch was delivered by launch marketing agency Five by Five, with PR support, influencer involvement and paid Facebook media. Aimed at raising brand awareness and converting social engagers into loyal customers of KittenSoft's new and improved product, SuperMams is a cheeky, playful concept that delivers something truly unique: a pop-up dedicated entirely to toilet roll.
Based on a 'roll' of fortune mechanism, Irish mums and their families were invited to partake in a slew of silly activities, including Pie in the Face, Golden Roll Pit (a ball pit, but with a hidden toilet roll), Mammy's Make-up and more.
The SuperMams Challenge aimed to create family moments, with kids and partners putting mums through the ringer in exchange for laughs and – if they won – big prizes, including plush toys, games and a weekend break for a family of four.
76% of women aged 25-44 with two children in Ireland are the main food shoppers in the household, and 80% of toilet roll shoppers in Ireland are female.
George Roberts, client services director at Five by Five, says: "KittenSoft is a quintessentially Irish brand: it's made for Irish bums and bought almost exclusively by Irish mums. We've worked with Sofidel's roster for over three years now, and it's a joy to finally work with KittenSoft and bring its brand personality to life."
Graeme Bralsford, marketing & sales director at Sofidel Group, adds: "Mums often run the show when it comes to family life, but they often don't get the credit they deserve. We wanted to recognise this by creating a fun-filled occasion that puts mum firmly in the spotlight. Five by Five's work on SuperMams is designed to create awareness and engagement across the whole family and fits perfectly with the brand values, ideally suited to get the KittenSoft relaunch off to a perfect start."