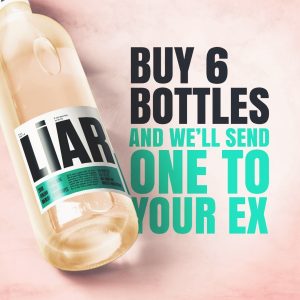 Liar, the craft white wine made of red Merlot grapes, is launching a tongue-in-cheek Valentine's Day promotion – purchase 6 bottles of Liar wine, and get a free bottle sent to an ex-partner.
The newly-founded company based in Italy explains that Valentine's Day is not only a day to celebrate with your partner, but also a time to remember that ex lover who left you with lasting memories. By sharing a free bottle of Liar wine with a customer's ex of their choosing, the company is helping to send a symbolic message: "Enjoy this fruity and fresh white Merlot as a metaphor of our time together."
Liar wine is the provocative wine that launched on 31stJanuary 2020 – Brexit day – garnering the attention of both the creative and wine industries and making press headlines.
Friends and co-founders Curro Piqueras, Lorenzo Foffani, Jaime Azurmendi and Guglielmo Foffani say: "Whilst the growing trend amongst brands is to achieve greater honesty and transparency, our goal is to own the unexplored territory of lies. The product in itself represents a lie, as it poses as a white wine but is actually made of red Merlot grapes."