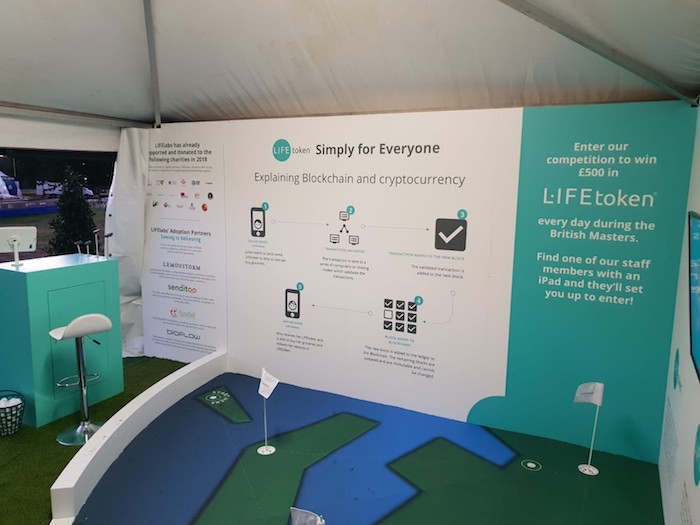 Digital currency company LIFElabs took to the fairways as an official sponsor of the Sky Sports British Masters. To supplement its sponsorship, LIFElabs teamed up with Provision Events to deliver a series of activations that bring to life the benefits of its currency LIFEtokens and its suite of services designed to simplify the use of crypto currency.
"We want to de-mystify digital currency and the Sky Sports British Masters is the perfect platform for us to do this," commented David Pugh-Jones, CMO of LIFElabs. "The event has a huge global audience, which gives us great exposure, but perhaps more importantly tens of thousands of people come to watch live. This provides us with the opportunity to make a real impact on people's understanding of digital currency, but we need to communicate with them in the right way.  That's why we involved Provision Events from the outset. They're the experts in how to engage consumers and deliver brand messages at sporting events. Their input has been invaluable."
The event has afforded LIFElabs the opportunity to promote many of its key differentiators, most notably on the ninth hole where its philanthropic credentials are highlighted. Over the four days of championship European Tour players will shoot for the 'Hole in One' prize pot of £10,000, which LIFElabs will then match with £10,000 worth of LIFEtokens to be split between Cancer Research U.K. and the European Tour foundation. This underlines LIFElabs remarkable dedication to 'give back' that is demonstrated by 30% of all LIFEtokens being ringfenced for philanthropic causes around the globe. There are several other moments planned through the event that present the LIFElabs brand to the viewing public, but it is in the PVE designed fan experience area that the blockchain Jargon Busting really takes place.
Simon Jones, head of sales & business development at PVE explains, "We wanted to present the key features of LIFElabs products in a simple, fun way that draws fans in and engages them with the key messages.  We've put together a 5 hole mini golf course where each hole has messaging about the specific benefits of LIFElabs products. This is supplemented with graphics, video content and examples of the ways in which LIFElabs supports various charities.  We've gone for a quite a simple approach, but for a subject that is often considered complex, the key is to present the information in a way that is fun and easy to understand."
With this venture into the world of sport, LIFElabs is bringing crypto currency into the mainstream. In linking up with the European Tour it is partnering with a forward thinking organisation that shares many of its principles of philanthropy. These have been key influencers in deciding to take up the sponsorship opportunity as Pugh-Jones concludes, "The last few years has seen European Tour constantly innovating and looking to the future, so it is a perfect partner for us. With a hugely popular event such as the Sky Sports British Masters as a platform and the help of experts such as Provision Events we've been able to communicate our key messages to thousands of people on the ground and millions more around the world. I'm delighted with the positive response we've had so far and am sure that there will be much more to come."