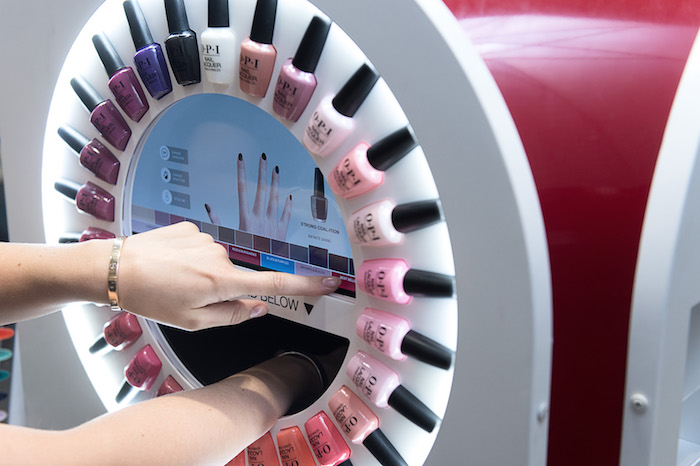 Play, the strategic retail design agency specialising in the design and production of branded retail units, retail spaces and shopper experiences, has delivered the world's first digital nail trial, placing augmented reality (AR) at shoppers' fingertips to boost sales for leading nail laquer brand OPI.
Play designed, created and delivered the innovative free-standing units (FSU) with in-built AR technology for market leading nail lacquer brand OPI, enabling the brand to entice and engage with customers by offering the ability to trial lacquer shades prior to making a purchase – eliminating time-consuming indecision and enhancing customer satisfaction.
Mark Howell, creative director at Play said: "Until now, there have been barriers for shoppers who want to physically try nail lacquer shades prior to purchase – in contrast to lipstick, foundation and eyeshadow shades which are readily available for in-store trial – so when OPI tasked Play with re-inventing its travel retail units to engage and excite customers we rose to the challenge, drawing on our expertise with high-tech industry leading retail installations."
The new FSU enables shoppers not only to trial shades to see how they will appear on their own hands, but also to preview recommended complementary colours, access information on best-sellers and other products in the range, as well as receiving  personalised shade recommendations through the "Style Me" interactive feature.
The OPI digital nail trial has been installed in over 400 global travel retail locations and has reached over 1 billion potential customers since rollout began.
Mark continues: "At Play we understand the unique challenges of the travel retail space; brands have to work hard to attract and engage with customers in an increasingly short dwell time. Our approach to delivering successful retail experiences that will meet our clients' briefs is holistic: by placing the customers' needs front and centre we created an intuitive, quick and simple to use, engaging and, above all, useful, experience.
"Almost every major airport in the world will have an OPI digital nail trial by 2019, but we're not stopping there! Exciting plans for the next phase of development include the addition of a social sharing functionality to drive brand advocacy for OPI, as well as developing the unit to be part of an omni-channel approach, creating and seamlessly linking shopper profiles and brand interactions both online and offline. Particularly in travel retail, the sky is literally the limit."