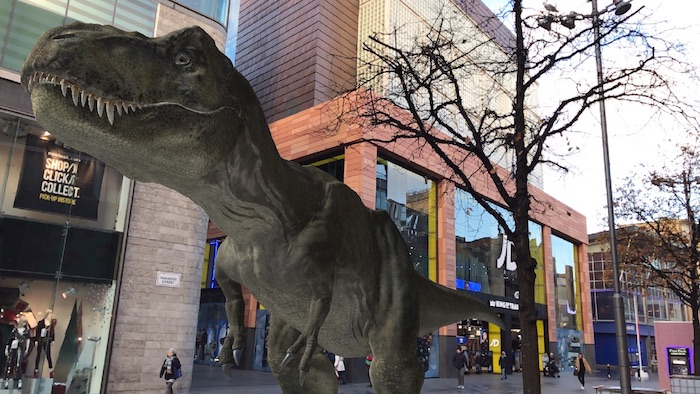 Liverpool One will be transported back millions of years – via the latest technology – when an augmented dinosaur hunt launches on 29 March for ten weeks.
As part of this interactive game, visitors will have the chance to chase Raptors, follow Apatosauruses and hide from the mighty T.Rex, as part of a new Dinosaurs Unleashed augmented reality app – a first for the city. In addition, there will be model dinosaurs on Chavasse-ic Park, real-life rangers on hand to help young visitors to get the most out of their experience and lots of surprises popping-up around Liverpool One during the 10-week 'invasion'.
Grosvenor Europe (Grosvenor), which developed and part owns and manages Liverpool One, has teamed up with dinosaur educationalists, Teach Rex, who work with school children across the country bringing the pre-historic era to life in the classroom. The National Museums Liverpool is also working in collaboration with Grosvenor and Liverpool One, welcoming children to its Dinosaur Gallery at the World Museum in William Brown Street.
Alison Clegg, Director, Asset Management, Grosvenor Europe, added: "This app is one of the most ambitious and exciting enlivenment initiatives for Liverpool One to date. To be the first to bring this augmented reality to the city, and at such a large scale, highlights our passion to be innovative and to provide visitors with the best experience, ensuring Liverpool remains a vibrant place to be.
"Grosvenor's collaboration with Teach Rex and National Museums Liverpool, also brings an important educational element to the event, but moreover, reaffirms how city stakeholders can work together to ensure city centres remain vibrant, mixed use destinations."
Visitors will be able to download the app and collect points as they hatch dinosaurs from giant eggs within Liverpool ONE via a range of augmented reality features. Participants will even be able to play with their dinosaurs at home – and are encouraged to keep their pre-historic friends well-fed and well-exercised.