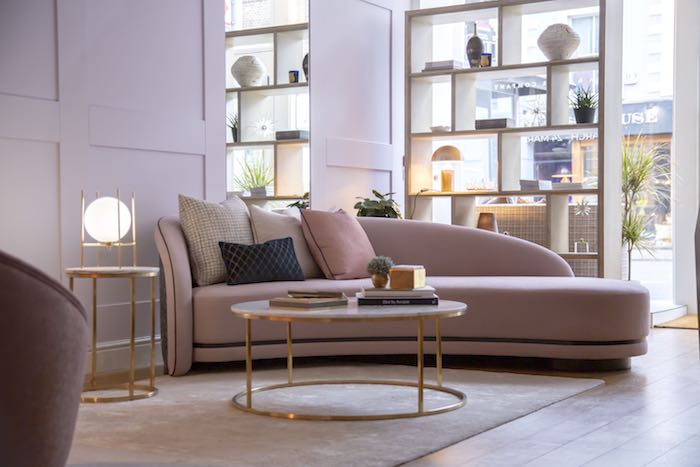 Sloane Stanley has today announced that luxury sofa and bespoke furniture specialists, The Sofa & Chair Company, has opened an exclusive pop-up at 320 King's Road. The pop-up calls upon established retail partners, from the King's Road, to create new bespoke showrooms for visitors.
Designed in collaboration with leading fabric houses including Designers Guild, Romo and Jason D'Souza, the pop-up is titled 'Partners' and coincides with London Design Week. The partners have contributed bespoke furniture pieces to showcase a selection of luxury household rooms from the Spring 2019 collections. All of the partners rooms feature paint from British manufacturer, Little Greene. The brand opened the pop-up on March 9 and will run until March 24.
Hannah Grievson, Property Director at Sloane Stanley, commented: "The King's Road boasts an impressive selection of design retailers, and has become more and more of a hub for emerging luxury designers. This pop-up venture is a perfect celebration of London Design Week, merging some of our most celebrated interior and homeware specialists. We're proud to home this exclusive pop-up which will display the beautiful fabrics and signature pieces from The Sofa & Chair Company, and fellow King's Road traders."
Nicola Bissoli, Head of Interior Design for The Sofa & Chair Company, added: "Partners is our personal take on interior design trends for Spring 2019. The installation saw us reinterpret some of our most iconic pieces by harnessing the in-house design team's passion for creativity to create a capsule collection defined by pattern, colour and artistic expression. Our pop-up, on the highly desirable King's Road, demonstrates the versatility at the heart of our collection, which includes access to an unlimited selection of designer fabrics and long-established relationships with the world's leading fabric houses."
Appear Here marketed the unit for the Sloane Stanley Estate.