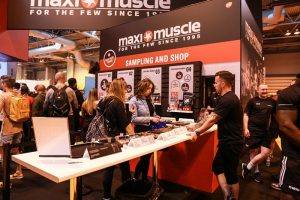 Maximuscle called upon Circle Agency to activate its stand at this year's BodyPower Expo, which enticed thousands of fitness fanatics over the weekend with free giveaways, product sampling and fitness challenges. The event was the first time Maximuscle's latest products and flavours had been offered to consumers, and the on-stand sampling bar featured an array of exciting new products.
Following the success of the deadlift challenge at last year's event, Circle Agency introduced the Bench Press Challenge to the 2017 event, inviting attendees to test their strength by bench pressing their own body weight, with those managing the most reps being crowned the winner. Maximuscle ambassadors including boxer Anthony Yarde, fitness trainer Bradley Simmonds and WBBF Pro legend Wolé Adesemoye, were on hand to spur on competitors and a male and female leaderboard on the stand kept track of the best performers each day.
Also on the stand was a digital photo studio, which created an animated gif of participants on an Ibiza beach, helping bring to life the Maxi #IbizaChallenge competition. Those who signed up to any of the on-stand activities were given a Maximuscle goody bag which included a branded shaker packed with product samples.
Maximuscle also retailed on the stand offering Maximuscle products at discounted rates which were exclusive to BodyPower. Maximuscle brand ambassadors and nutrition experts were on hand to offer advice on products, fitness and nutrition.
Neil Hooper from Circle Agency commented: "Following a successful event last year, we ensured we pulled no punches when activating the Maximuscle stand at BodyPower Expo 2017.  We created three targeted on-stand activations to entice people onto the stand and encourage people to sample the new range of products and flavours being showcased for the first time. The stand was a big success with hundreds of people taking part in the bench press challenge and animated photo booth, with participants sharing their experiences on social media which allowed us to reach people far beyond the event."
Taking place at Birmingham's NEC from the 12th– 14th May, BodyPower Expo has grown into the most celebrated and comprehensive fitness event in the UK, welcoming thousands of visitors and athletes from all over the world.
Andrew Ibbotson, Senior Brand Manager at Maximuscle commented: "The 2017 edition of the BodyPower Expo was our most successful one ever. We worked closely with Circle Agency to create a unique experience for Maximuscle consumers, which offered them the chance to win a host of great prizes and get hands-on with the brand. With over 26,000 samples distributed, 1000#s of great data captured and over 1,200 participants across the on-stand activations, our stand allowed us to truly engage with the BodyPower audience."