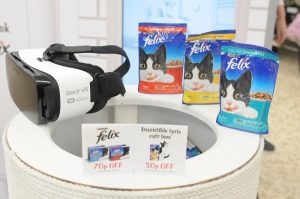 Experiential marketing agency N2O has given an insight into life as a cat through a technology-driven campaign designed with Purina PetCare.
The virtual reality experience, designed by the agency's Digital team, takes the headset wearer on a journey from the garden and around the house through the eyes of the pet food brand, Felix
The 70-second cat's-eye-view 360° animated video adopts the style of the recognisable Felix TV ads and the whole project was delivered in house from concept to store.
The experience was delivered in the foyer of Tesco stores across the UK to promote the Felix cat food brand, giving shoppers the chance to try a free Felix wet cat food or Felix Goody Bag sample
David Waters, Head of Creative Services at N2O, said: "This was an exciting project for our Digital team to work on. VR is used in many campaigns to enhance and imitate real-world experiences, and we enjoyed taking on the task of creating VR from an animal's perspective!"
Find out more about N2O here.  The second wave of the activity begins in selected Tesco stores on August 16th.