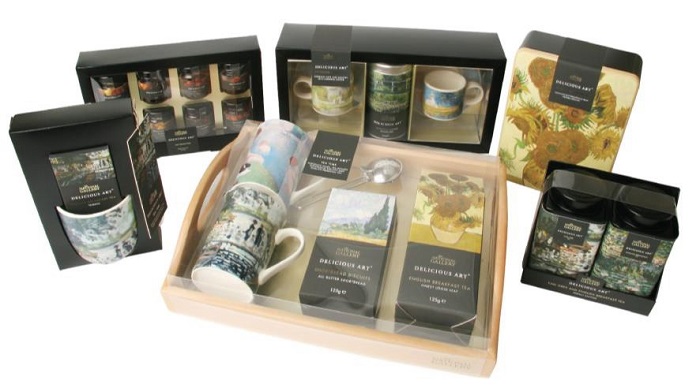 This Christmas the National Gallery Company's Delicious Art range will be available from an external retailer for the very first time. An exclusively designed selection of gift sets are now available at Boots, one of Britain's largest high street retailers and a leading destination for Christmas gift shopping.
Boots is launching the range, which consists of seven gift sets, under the National Gallery Delicious Art brand, in 300 stores nationwide and online at Boots.com for Christmas 2016.
The gift sets include a tea tray set, coffee cups and ground coffee, biscuits in a tin and marmalade and preserve selection sets featuring some of the best known paintings from the National Gallery collection including Van Gogh's Sunflowers and Monet's Water-Lily Pond.
The National Gallery's Delicious Art range celebrates the excellence of high quality food and drink and the magnificence of the Gallery's paintings. The range includes exquisite wine, delightful chocolates, vintage champagne, loose teas and gourmet jams and chutneys which is stocked at the National Gallery shops and online.
The National Gallery Delicious Art range for Boots is licensed under Scoop Designs.