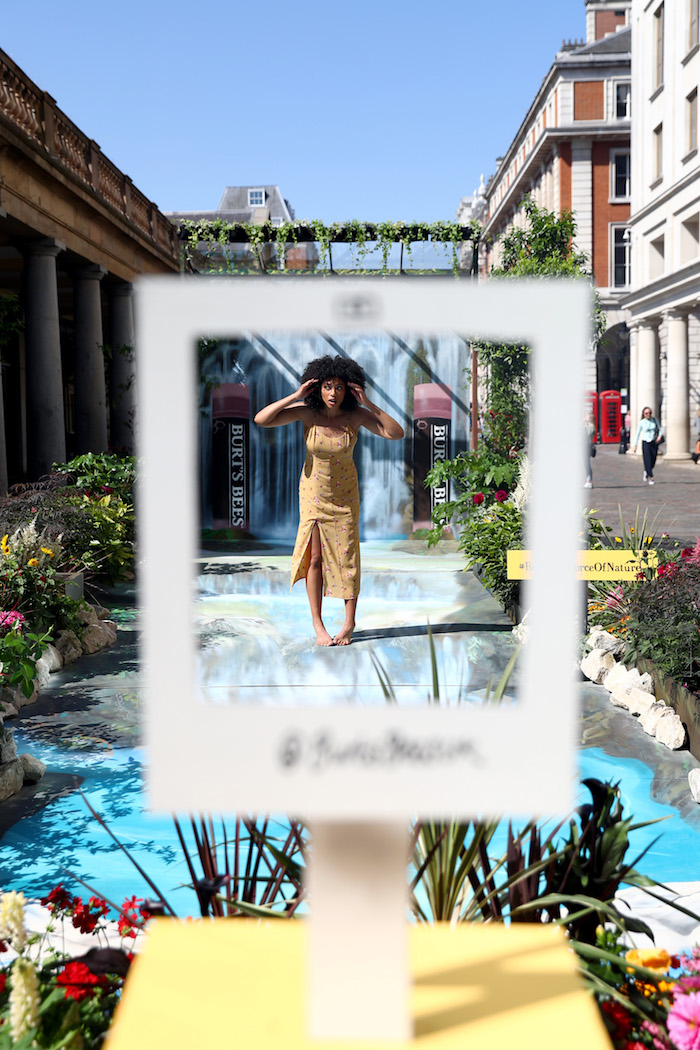 Nature takes over Covent Garden as beauty brand Burt's Bees launches an immersive installation promoting its sustainably made, 100% natural origin Tinted Lip Balm range.
The installation has been created and is managed by Omnicom Media Group UK's DRUM, in partnership with Graffiti Life and The Dirty Fingers Club. It is located in London's Covent Garden Piazza and features an illusion of a natural oasis, alongside a jungle of blooming flowers, all of which take inspiration from Burt's Bees' Tinted Lip Balms. The installation highlights what would happen if we let nature reclaim urban environments.
The campaign also features social content and a competition, encouraging consumers to share photos on their Instagram channels, tagging @BurtsBeesUK and using the #BeATrueForceOfNature  hashtag to win prizes.
The aim of this installation is to highlight to the public just how important nature is to Burt's Bees as a brand. The installation provides a visual representation of what it is to be a true force of nature, as well as showcasing the natural credentials of their Tinted Lip Balms.
Ruth Griffin, at DRUM, commented: "Consumers are becoming more and more critical of how the products they buy are produced and of the ingredients used. The role of the installation is to bring to life Burt's Bees commitment to all-natural ingredients, demonstrate what Burt's Bees  mean when they encourage us to be a True Force of Nature, and drive greater awareness of the inspiration behind their tinted lip balm range."
The installation, which runs from 27-29 June targets 15-44-year olds with a keen interest in beauty and nature. At the end of the campaign, all plants used in the installation will be donated to community and regeneration projects across London, allowing nature to continue to thrive amongst urban environments.