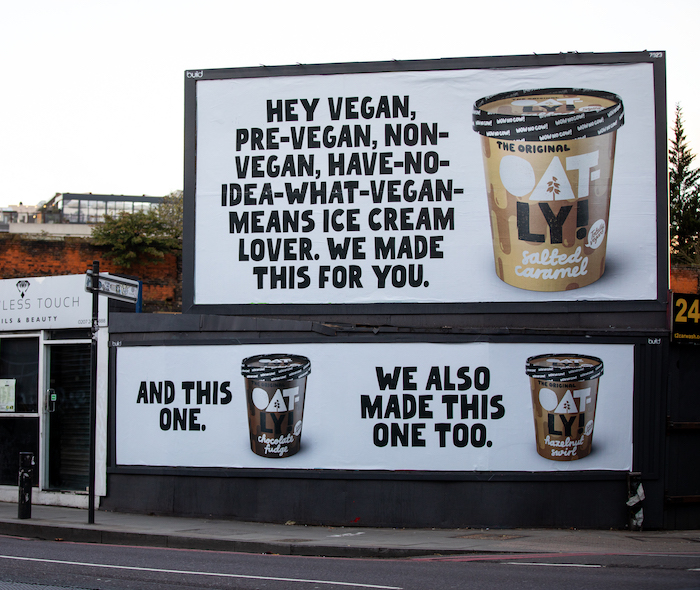 Oatly has launched its first range of oat-based ice cream flavours in the UK with a nationwide, cross-media campaign: 'From Oatly with Love Handles.'
The marketing drive celebrates Oatly's first UK frozen range, with a very honest message… this is no health food. In fact, the Chocolate Fudge, Hazelnut Swirl and Salted Caramel ice creams unashamedly break Oatly's own records for "unhealthiness, imbalance and general reckless abandon". This sentiment feeds through the campaign, which crosses OOH, print, sampling, in-store, PR, influencer and social activity.
The campaign sees Oatly take over key sites across London including Shoreditch and Hackney murals and Waterloo, London Bridge and Euston station takeovers. Despite the frozen range being launched in the dead of winter, Oatly is taking the campaign to the bustling British seaside, with murals and banners in Brighton.
Fitness fans, used to turning to Oatly for oat-based drinks, will be surprised to find the campaign in PureGym's across the country, encouraging everyone to indulge a bit this winter.
 Oatly's own ice cream truck has already made pitstops at Stylist Live Luxe and Vegan Nights London, and will be pulling up at Boxpark Shoreditch and various other locations across London this month.
Oatly's creative director, Michael Lee, commented: "This launch campaign hopes to broadly connect with ice cream lovers across the UK and prove a point to the non-believers out there that being plant-based and progressive doesn't necessarily mean you can't be decadent and well, even a little reckless… UK, it's time to indulge."
Oatly's three ice creams are available exclusively in Tesco now.