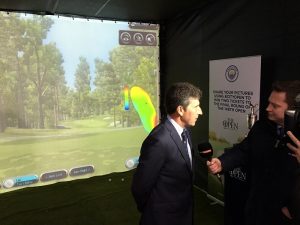 Provision Events (PVE) scored a massive hit during the huge Premier League clash between Manchester City and Liverpool at the Etihad Stadium on Saturday, March, 20 as José Maria Olazàbal was interviewed by Sky Sports inside the simulator.
Manchester City and The Open recently agreed a partnership to promote the world's oldest golf competition, which will be held at Royal Birkdale from July 16-23, and PVE, one of the world's leading sports activation agencies, were invited along.
As part of the tie-up, Olazàbal was guest of honour for the 1-1 draw and the two-time Masters champion showed off his golfing skills in PVE's stunning state-of-art simulator ahead of the crunch game before he gave a chipping masterclass on the Etihad pitch at half-time.
PVE provides 'fan zone' experiences at major sporting occasions and boast an extensive clients list in the world of golf that includes Callaway, the European Tour, the PGA Tour, the R&A and TaylorMade.
And as well as Olazàbal's appearance, the famous old Claret jug was on show, while PVE also held their hugely popular Par-3 Nearest the Pin simulator challenge, which attracted more than 100 competitors in the build-up to the football match.
Dominic Holden won the competition by knocking his chip to within 4ft 11ins of the pin to claim two hospitality tickets for City's clash with Hull at the Etihad on Saturday, April 8.
PVE's head of sales and business development Simon Jones said: "It really was a fantastic event and a great success. We had Jose Maria Olazàbal interviewed in the simulator by Sky Sport. We also had the Claret jug on display and held our Nearest the Pin competition on behalf of Manchester City to promote the new partnership they have forged.
"It is always incredibly popular and we had more than 100 people taking part in the two-and-half-hour-slot we had ahead of the game.
"The activation was set up in City Square, which is right by the stadium, so it was very busy. It was great to work with Manchester City FC and we will look to build on our partnership with them in the future and put on more activities.
"We are hoping to make a drive into football and work with other clubs to provide fan zones and activities in the future."
Rhys Pearson, who is part of Manchester City's events department team, added: "Provision Events was efficient and effective and the activation engaged with supporters and easily adapted to the environment."