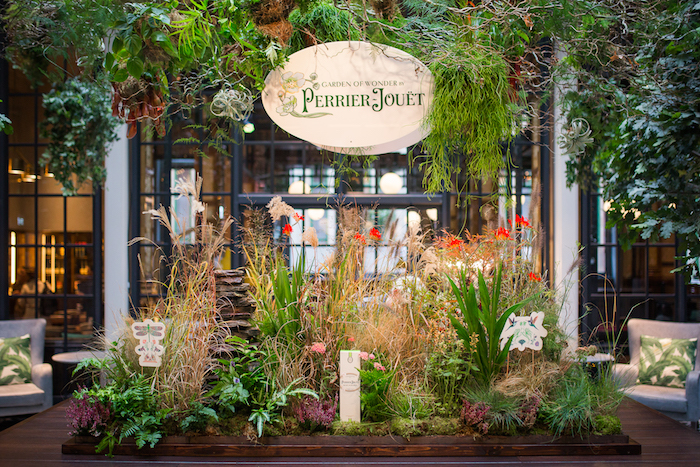 Perrier-Jouët opened the garden of wonder to the public on Friday 27th October at The Refuge, which is part of The Principal Hotel in Manchester. The Garden of Wonder is situated in the middle of an 18-seater table and guests can interact with it using augmented reality that will reveal a beautiful world inspired by nature and Perrier-Jouët's newest cuvée Blanc de Blancs NV.
The activation, produced by Bacchus.Agency, celebrates abundant life in urban landscapes and encourages guests to discover this for themselves as they enjoy exploring the Garden of Wonder by Perrier-Jouët. Bacchus.Agency worked alongside experience designer Holovis to create the augmented reality scenes and to design the app that guests download on arrival.
The Garden of Wonder by Perrier-Jouët comprises of flowers, plants, herbs, grasses, miniature trees and flowing water, which are animated by a breeze that gently billows across them. Branches of willow hang down from the sky gardens, with ferns and flowers elegantly entwined to create a canopy over the entire installation.
From within the app, guests can scan the Perrier-Jouët Blanc de Blancs box and markers around the Garden of Wonder, to see them come to life before their very eyes, revealing beautiful nature scenes featuring butterflies, bees, hummingbirds and dragonflies amidst the foliage.
Hamish Millar, marketing manager at Perrier-Jouët says: "Perrier-Jouët has always had strong links with design and nature and what better way to launch our vivacious new cuvee Blanc de Blancs NV than with a garden that is full of life and surprises in the beautifully light atmosphere of Refuge at the Principal Hotel. Reminiscent of our recent campaigns like L'Eden by Perrier-Jouët in 2016, the installation enchants through the tension of urban and nature, artistic substance and lifestyle."
Garden of Wonder by Perrier-Jouët at The Refuge, on the corner of Oxford Road and Whitworth Street, Manchester is open to the public from Friday 27th October to Sunday 13th November.