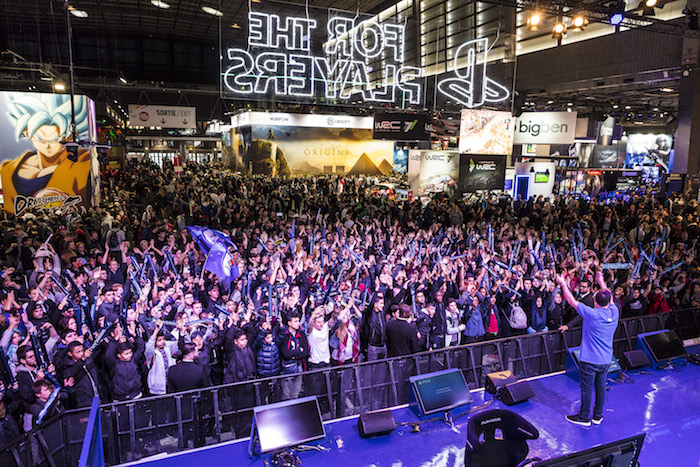 Amplify
 has created its largest ever stand for PlayStation at
Paris Games Week
; plus the brand's major press event, PlayStation's Paris Media Showcase.
The
PlayStation stand at Paris Games Week welcomes 350,000 consumers over five days and has become synonymous with dominating the event thanks to its vast size, array of games, stand-out design, unforgettable experiences and strong social presence.
To ensure Amplify continued to exceed the brand's and fans' high expectations, the agency evolved the stand's design to be more open and feature key neon touchpoints that give the space a highly visible glow. Amplify created the bespoke identity concept for the brand's Paris Games Week presence.
Featuring major PlayStation announcements alongside the brand's latest and forthcoming most anticipated products and titles, the Paris Games Week stand runs from 1 to 5 November, with a press and VIP day on 31 October. The project marks Amplify's seventh consecutive year of designing, building and managing the event, with this year's stand being the biggest ever at over 3,500 sqm.
In addition, Amplify is responsible for designing, producing and managing the PlayStation stand's EA
Battlefront II
and Netflix
Stranger Things
experiences.
Ahead of the Paris Games Week activation, Amplify delivered PlayStation's Paris Media
Showcase
: a massive event for the brand to make exclusive announcements to 700 top-tier international media at La Grande Arche on 30 October.
Working with Stungun, Amplify created the brand's European press conference, which was live streamed globally to millions of fans in eight languages.
To ensure maximum engagement, the event featured high impact video content, theatrical special effects and state of the art audio visual technology.
PlayStation's d
irector of communications
, 
Richard Brunois
, said: "In the seven years we've been working with Amplify, they've always delivered seamless, fun and memorable experiences for gamers and media in Paris. But this year's execution has taken the stand a level up with its vast scale and engaging content; a befitting launch for our most anticipated title Detroit and our new range of friends and family games PlayLink."
Isabelle Adams, SIEE European events manager
, commented: "
At Sony Interactive Entertainment, we set our sights higher than ever with the vision for Paris Games Week Media Showcase 2017. What we wanted to achieve was a spectacular show, groundbreaking and cutting edge, all for the players. Amplify met our expectations and more, delivering a best in class show effortlessly and always a pleasure to work with."  
Amplify's founder, Jonathan Emmins
, added
:
"We're lucky that PlayStation was one of Amplify's founding clients nearly nine years ago. Each year PlayStation continues to excite and innovate. Thanks to our long-term relationship, deep levels of understanding and trust, we're able to go on fast-paced and exciting journeys together. Each year, we push ourselves, we evolve and we refine. That is why this year's
Paris
Showcase
and stand are the biggest and best yet."