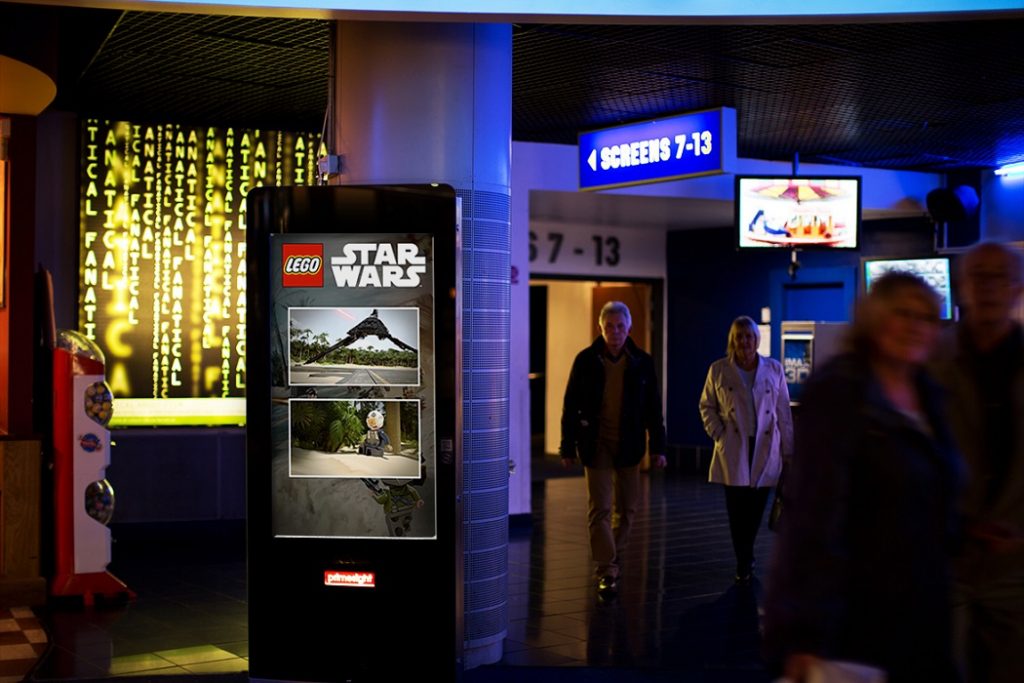 Lego is set to become the first client to capitalise on Primesight's new 'Primespot' technology which takes the traditional 'gold spot' advertising seen on-screen before a film into the foyer, maximising exposure to the target audience.
The technology will revolutionise how digital cinema advertising is sold, serving the advert exclusively for 15 minutes in the foyer ahead of a specific feature film. The average cinema goer spends 14 minutes in the foyer ahead of watching their film, which means that 'Primespot' minimises wastage and targets the desired audience at a moment when they are most receptive to the message.
Aniskha Fernando, senior client manager at Posterscope, said: "Cinema foyer advertising has always been a great format for us to target LEGO's audiences, and through Primespot we are now able to be more niche with our targeting and dominate foyer presence during the all-important 15 min lead up to the show.
Lego have purchased 1,750 hours across Primesight's cinema portfolio of digital 6-sheets, which will run daily before showings of Rogue One: A Star Wars Story, at 120 cinemas in a nationwide campaign. The Lego spots will be served directly before what is set to be this year's festive blockbuster and will feature Lego's Star Wars range. As one of the biggest films of 2016, Rogue One is expected to take £80 million at the box office.
Dan Sharp, head of digital at Primesight, commented: "Through Primespot, we hope to reach out to audiences when they are at their most receptive, to build upon brand engagement at the first touchpoint: in the foyer of a cinema. Our first campaign with Lego is one we are very excited about and is the first step in showcasing just what brands and advertisers can creatively do in this space."
2016 was another record year for UK cinema, which defied expectations to continue to deliver on the impressive growth of 2015. The total UK box office crossed £1bn in record time, hitting the figure by October 8, and beating last year's record by nearly 3 weeks. Increasing footfall and spend in cinemas around the UK means that engaging audiences in the time they spend before watching the film is even more important, and as a result 'Primespot' delivers the maximum ROI for brands using the technology.