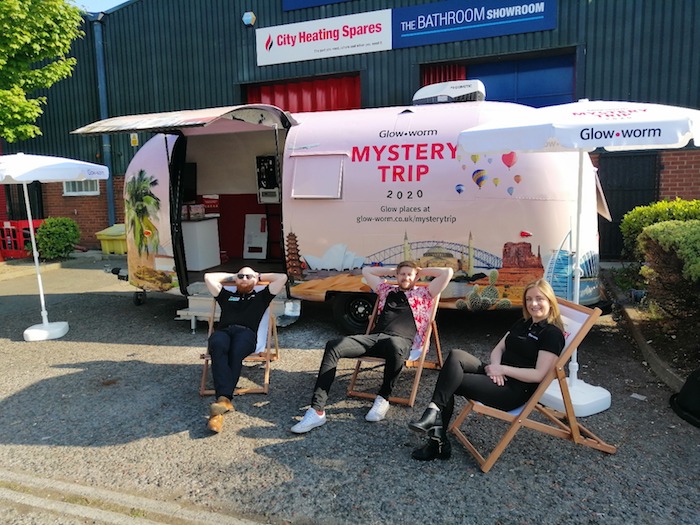 Promohire have embarked on an airstream campaign for heating and energy pioneers,Glow-worm.
The brand wanted to bring back its legendary "Mystery Trip", a tour aimed at the trade which offers 80 heating engineers the adventure of a lifetime.
Glow-worm approached Promohire to help them deliver the 30-week tour, which is set to visit 80 merchant stops across the UK until the Autumn. The brand was looking for a way to grab attention and subsequently engage their audience to meet the campaign objectives.
It is key to the brand that they raise awareness of the campaign to installers and get them involved in the initiative to help them secure their place on the plane. If plumbing and heating engineers hit their personalised target of Glow-worm installations, then they are in with a chance. Therefore, it is essential that the Airstream can showcase Glow-worm's new product range in order to excite installers and encourage Glow-worm as the brand of choice.
The Airstream conversion delivers a combination of elements to create the right environment for Glow-worm's audience as they are invited on-board. These include display areas for two boilers, a coffee station and storage area, upholstered seating area and an interactive area with a TV. These elements allow the Glow-worm team to give demonstrations and share key information.
The trailer is to be parked up outside each tour venue featuring the full campaign livery. Promohire transformed the traditional aluminium riveted exterior with a wrap which depicts the campaign theme. Featuring exotic locations such as Las Vegas, Dubai, Sydney and Barbados.
As well as providing the converted Airstream trailer, Promohire is also managing the all-important logistics for this nationwide tour. This includes creating the tour schedule as part of the campaign planning phase, as well as physically ensuring the trailer is on-site for every tour date.  Promohire also provided the driver to tow the Airstream trailer across the country as well as the on-board barista.