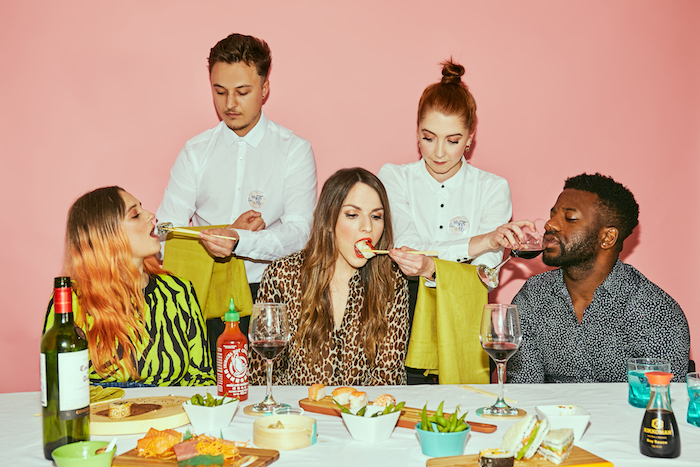 The world's largest diners' club, tastecard, is to launch its first pop-up restaurant in London. The 'Hands Off!' restaurant will allow guest's evening to be taken care of entirely with servers feeding and watering them.
Inspired by the Bangkok tradition where it is popular for guests to be honoured, treated with the upmost respect and notably, served by the hosts. 'Hands Off!' brings the concept to the UK, for the first time, promising guests a completely decadent and indulgent experience.
Tickets are available through a designated Eventbrite page for £20, with 100% of the proceeds going to Mary's Meals charity.
Opening its doors in mid June, the restaurant features a set tasting menu brought by partner restaurant Feng Sushi, including Nippon 'mock' duck (a Chinese pancake, with cucumber, spring onion and caramelised tofu and hoisin sauce), salmon, tuna and Japanese omelette nigiri and vegetarian rolls. For dessert, guests will be fed Mochi, a Japanese rice cake in chocolate and strawberry cheesecake flavours.
The 'Hands Off!' restaurant will run for one week  to celebrate tastecard's app re-launch available for download on iOS and Android. Since its inception as tastelondon in 2006, tastecard offers members 50% off food and 2 for 1 meals at 6,000+ restaurants including Feng Sushi, PizzaExpress, Byron, Zizzi, Absurd Bird and more.
Matt Turner, founder of Tastecard, said: "Tastecard, the mighty black and green card, always knows where to take its members. Whether they want to save on food, cinema or days out; we've got plenty of discounts on offer. With this restaurant, tastecard is allowing customers to enjoy a unique dining experience."
The Hands off restaurant will be open from Tuesday 7th June to  Friday 14th June, 7pm – 10pm at 71 Blandford St, Marylebone, London W1U 8AB.
Mary's Meals have been tastecard's charity partner since 2012 raising over £280k since the partnership began.