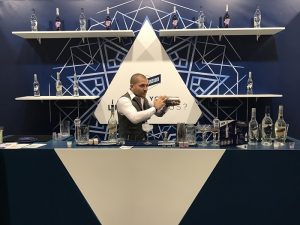 Purple Creative has created a global brand activation platform, Are You Liqueurious?, to promote Marie Brizard liqueurs and syrups.
The idea encourages bar-goers to be more curious about Marie Brizard liqueurs and new flavours again. Are You Liqueurious? is both a mindset for drinkers and bartenders to identify with and directly challenges them to try new things and be more daring.
Gary Westlake, founding partner and creative director, Purple Creative, explains the background to the creative; "Cocktails are usually famous for their spirits – not the liqueurs that are also used to make them. Through our Are you Liqueurious? activation we tried to democratize cocktails, raise the profile of liqueurs, as well as educate and intrigue consumers. And also to broaden bartenders' knowledge of the Marie Brizard portfolio."
The objectives  are to make Marie Brizard the hero of a cocktail – not just one ingredient of a more complex drink. The aim is to appeal to curious women and men who are looking to explore new flavours, ideas and experiences as well as to inspire, surprise and educate bartenders about Marie Brizard, highlighting the lower ABV of the brand. The campaign hopes to  create a buzz in the on- and off-trade to capitalise on the expanding cocktail culture, with a series of four new cocktails made exclusively with Marie Brizard products.
Gary continues "Marie Brizard, the founder of the company, was a daring creative, an inventor and France's first female liqueurist. She was incredibly curious and unafraid to try new things – and she is genuinely inspiring because her thirst for knowledge helped make her liqueurs world famous. So the idea was to create a series of intriguing and engaging activations for curious people, allowing Marie Brizard to connect with consumers who are on the lookout for something a bit different."
Purple have created a range of on-trade activations markets could use designed to provoke genuine curiosity in consumers. They range from an Are you Liqueurious? on-bar dice game to choose your cocktail to a Liqueurious pop-up bar and unexpected partnerships. The key behind all the ideas is that they are inclusive, appealing to both female and male drinkers aged 18-80, whether they are currently cocktail drinkers or not.
Ludiwine Angelini, Marie Brizard International senior brand manager Liqueur, adds: "Purple brought a fresh outlook to our brand and really understand who we are as a company, creating a universal activation around curiosity – a value shared by everyone. We were founded by a bold, curious and intelligent woman, and our range of liqueurs reflect that – Purple have bought that to life for a whole new audience."