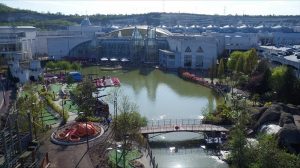 Arqiva, the UK's largest provider of neutral host in-building networks, has announced a partnership with Landsec, the UK's largest commercial Real Estate company, to deliver 4G connectivity to Bluewater, Europe's leading retail and leisure destination. Existing 2G and 3G mobile systems will also be replaced in the overhaul, which will ensure improved and extended mobile coverage and capacity on-site for retailers and enhance the experience for guests.
The deployment – which marks the beginning of a 15 year agreement between both parties – will see Arqiva replace Bluewater's existing mobile coverage systems with a brand new 2G/3G/4G, five-band in-building system, providing services for all UK mobile networks operators (MNOs).
The distributed antenna system (DAS) will extend mobile coverage into Bluewater's anchor stores and connect 11 remote unit locations throughout the Bluewater to an Arqiva master unit located on-site.
Nicolas Ott, managing director of Telecoms & M2M at Arqiva, said: "When it comes to the retail experience, fast and efficient connectivity is now as important to today's shoppers as it is to the retailer's bottom line – something that Bluewater and Landsec have clearly recognised.
"Having worked with Bluewater on its mobile connectivity infrastructure for 15 years, we are delighted to be given the opportunity to manage the deployment of this new future-proof 4G in-building system that is set to treble the system capacity and provide two thirds more spectrum on-site."
On behalf of Landsec, which co-owns and manages Bluewater, Robert Goodman, Bluewater's general manager, said: "Our focus is ensuring guests enjoy an experience that is both surprising and memorable every time they visit Bluewater.  We are therefore delighted to be working with Arqiva to provide this innovative new technology, which will play a key role in helping to deliver a seamless experience for our retailers and guests."
The partnership with Arqiva is the latest in a series of initiatives at Bluewater to utilise technology to enhance the guest experience, including real time experience measurement to collect and act upon guest feedback.