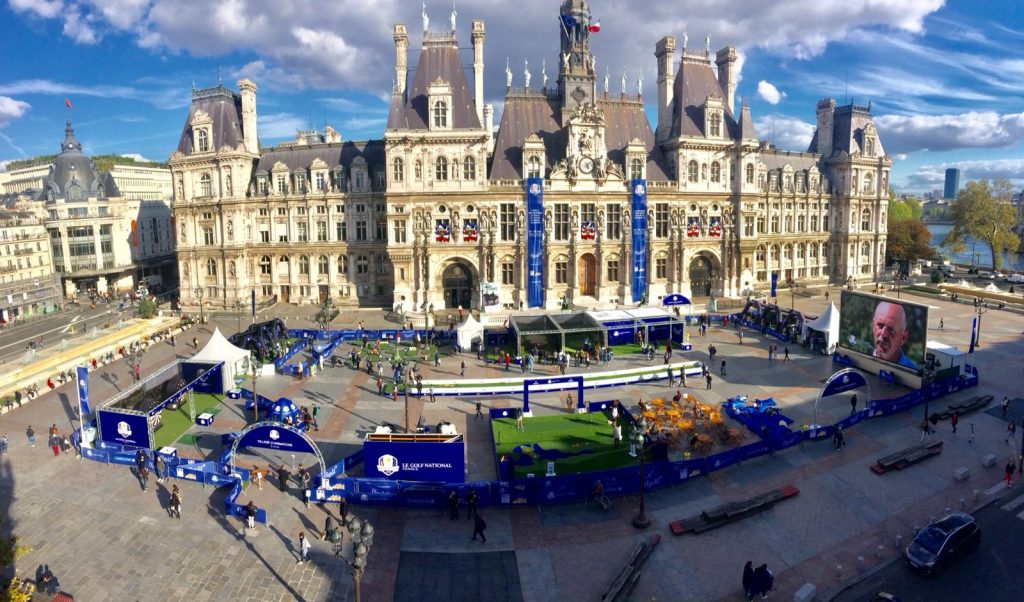 U.K. fan experience specialists Provision Events (PVE) were selected to design and deliver four of the experiences that entertained fans across Paris, the biggest of which was the French Golf Federation's (FFG) fan zone outside the Hotel de Ville in the city centre.
Managing Director of Communication, Media, Marketing and Partnerships at the French Golf Federation (FFG) Olivier Denis Masse said, "When we first bid to host the Ryder cup 8 years ago a fan zone was an important part of the global project. Provision Events have brought a great deal of international experience to the delivery of the fan zone, which was officially inaugurated by the Deputy Mayor last week. The Sports Minister also came to visit the village and congratulated the French Golf Federation for the quality of the facilities.  She even took her first ever golf lesson here!  The number and variety of people coming to the experience is incredible. Around 35,000 people have been to the fan zone, trying golf often for the first time and taking lessons with the Professionals on site."
Inside the ropes fans got a taste of the action as PVE immersed golf fans in the pressure-cooker atmosphere of the Ryder Cup first tee in the event fan village. On behalf of Aberdeen Asset Investments, PVE teamed up with digital sports agency Seven League (7L) to bring the drama of the first tee to life when they took fans into a mock-up locker room to be inspired by video messages from Ryder Cup stars past and present. Next, in groups of 20, fans went through to the first tee tent to become the crowd as each fan took their turn to tee it up for Team Europe or Team USA. There, they were fitted with heart-rate monitors, a concept conceived and delivered by 7L, to visualise the high-pressure environment that the players and caddies went through themselves on the actual first tee. With video, audio, real life crowd and the quickening beat of their own heart ramping up the pressure, putting points on the board tested every golfer's nerves and left them happy to merge back into the crowd to put the pressure on the next fan to tee it up.
Nick Clemens, Founder & Managing Partner, Provision Events comments: "The Ryder Cup is arguably the #1 golf event in the world so for our designs and delivery to be at the heart of so many golf fan's experiences of the event makes me very proud. But we couldn't do any of that without the stakeholders investing in the event. The Ryder Cup, the European Tour, Aberdeen Standard Investments, the French Golf Federation and many others have all contributed to making the Ryder Cup an event that every golf fan wants to attend and every media outlet wants to talk about."
Clemens concluded, "The Ryder Cup is setting the bar when it comes to world golf and arguably world sporting events. The experiences we've been part of here are helping to push that bar even higher and having provided the presence at this Cup for the next two Ryder Cup hosts, PGA of America and the Italian Golf Federation, the Ryder Cup is set to continue to deliver for fans and stakeholders alike."