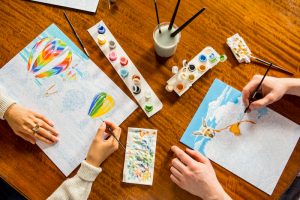 Art and creativity brand,
Reeves
, has tasked
Amplify
 with a comprehensive global relaunch that sees the 251-year-old company reposition as a youth-focused lifestyle brand. The relaunch is centred around a campaign film, called
Show Your Colours
, which launches on 4 November.
The project was awarded to Amplify after a competitive pitch during which the agency demonstrated how to engage young audiences by tapping into the millennial 'makers movement'.
Shot on location across
London, New York and Berlin, the hero film
introduces Reeves' influencers, as hand-picked by Amplify:
London based illustrator and print maker, Elliot Kruszynski; Berlin tattoo artist, Daisy Watson; and New York illustrator and textile artist, Llewellyn Mejia. The film also
encourages self-expression
whilst celebrating the fact that
millennials are an extremely creative generation.
The film will be seeded across owned and earned channels, with support from paid media. Additional video content includes influencer profiles, plus 'how to' and inspiration videos. A further content series, themed around creativity, will roll out in 2018.
In addition to developing the comms platform
Show Your Colours
and creating all video content, Amplify also captured new look brand photography; created and executed a visual direction for Instagram; developed POS marketing materials; delivered the launch event; and devised experiential concepts and materials as part of a global toolkit.
Reeves' global brand director, Daniel Mark Carr, commented: "Amplify's extensive youth credentials have helped us develop a worldwide relaunch that will resonate with millennials and dramatically open up the audience of the brand. By focusing on guidance and inspiration, we're helping millennials unleash their creativity."
Amplify's founder, Jonathan Emmins, added: "This bold, relevant and wide-reaching global relaunch is building a strong online community of young brand advocates through encouraging and facilitating sharing of their creations, while celebrating the creativity that lies within us all."