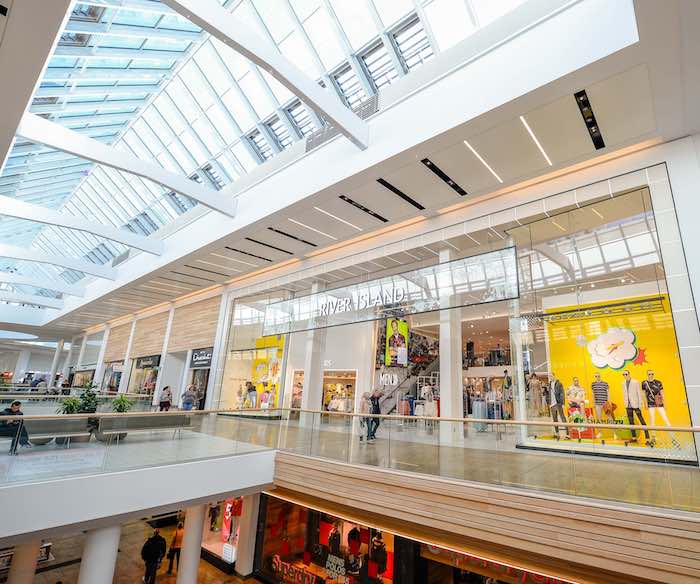 British Land, joint owners of Meadowhall, has announced continuing investment as five major retail brands take inspiration from the redesigned centre and commit to significantly improving their own stores.  River Island, Ted Baker, Footasylum, Primark and Molton Brown have invested a combined £6 million in improving the design and function of their stores at Meadowhall.
The new openings follow on from the £60 million transformation of the centre, which triggered occupiers to commit a total £40 million in redesigning and refitting their stores to fit the new contemporary feel.   The  improvements in Meadowhall have secured its future as one of the leading retail and leisure destinations in the UK.
Upsizing to 24,000 sq ft, River Island has launched a new format at Meadowhall that will be rolled out across all new stores. The brand's Meadowhall flagship features an extended mezzanine level, triple-bay entrance and enhanced LED lighting to create a clean and bright interior, as well as a striking double height fascia.  The design of the new store was carried out by an in-house team
Ted Baker has designed a bespoke record shop-themed store to celebrate Sheffield's music heritage, playing homage to Sheffield stars such as Heaven 17, The Human League, Joe Cocker and Def Leppard
Primark features a 21,000 sq ft ground floor extension with extensive works to the existing store front, new and improved signage, and relocated cash desk area in response to shopper footfall habits. Primark's new store totals 95,500 sq ft
Commenting on the news, Josie Cartridge, customer director at River Island, said: "Our new store at Meadowhall includes a variety of brand new design features and is going to be the template for how we format our stores moving forward.  We're thrilled to now fully re-open and welcome people to our enhanced store concept."
Richard Crowther, asset manager for British Land, added: "Stores remain an integral part of omni-channel retail.  Our transformation in Meadowhall, and the investment by retailers, has provided high-quality retail space aligned to the way people want to shop.  We're delighted by this new wave of openings, which give people even more reason to visit Meadowhall."
The refurbishment has attracted a plethora of new brands, including Mercedes who launched a 6,200 sq. ft. experiential store and Australian retailer House, which has recently signed for a 3,051 sq ft unit located on the High Street for one of its first stores in the UK.  Other new brands to the scheme last year included Joe Browns, Michael Kors, Flannels, Urban Decay, Skinny Dip, Tag Heuer, iSmash, Diesel, Joules, Jack Wills, Neal's Yard, Nespresso, T2, schuh Kids, Pret a Manger, GBK and Barburrito.