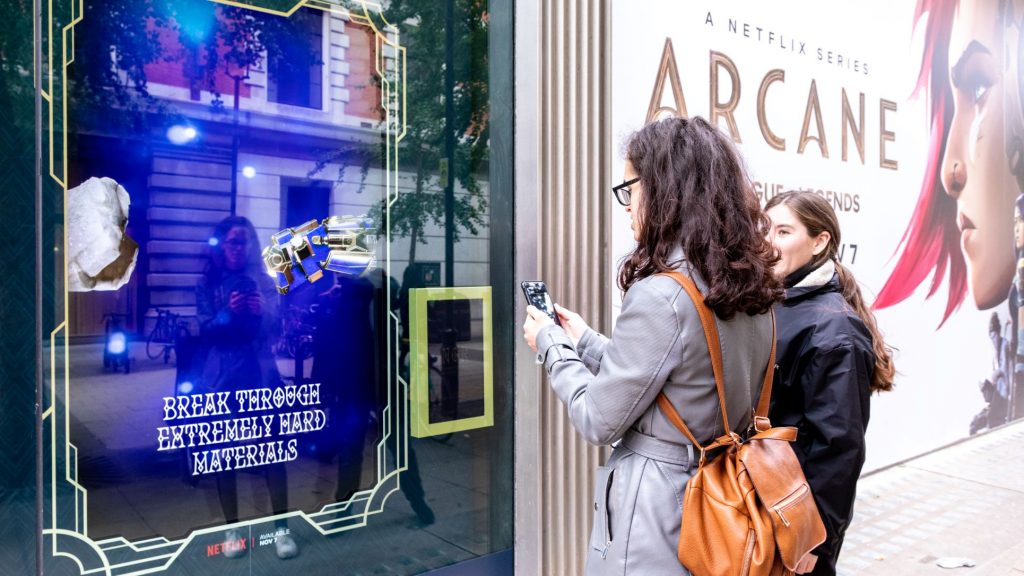 Riot Games has launched a global campaign to promote the upcoming League of Legends on-screen series, Arcane. Together with London based experiential agency We Are Collider, the fully integrated campaign will feature a blend of experiential, digital, social and out-of-home activations in cities worldwide coinciding with the release dates of each episode of the new show.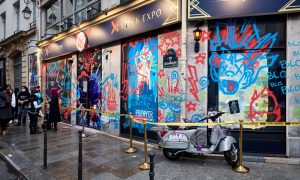 Events kicked off with a takeover of the Burj Khalifa, the world's largest screen. Spotlighting Jinx's battles with authority, her sister and herself, the League of Legends universe will spill out into the real world with retail stores scheduled to open in Paris, London, Madrid, Istanbul, Singapore and Los Angeles. These stores bring Piltover, the "City of Progress", to the real world with the "Hex Expo", a showcase of all things "Hextech" – a newly emergent fusion of elemental spirit magic and technology, limited only by the imagination of its users.
As each store prepares to open, interactive Augmented Reality and Interactive window displays will come online, giving passers-by a sneak-peak into the world-changing abilities of Hextech, and a deep-dive into Arcane through exclusive content, filters and interactions. Creating a unique experience for both the League of Legends community and a much wider audience.  The first stores have already created intrigue with stunts occurring in Paris and London.
The campaign is moving through its next phases on  global schedule. In the first two European locations it has already gone through its next phase of activations, with London's Oxford Street Hextech Expo pop-up destroyed as a promotional stunt for the Netflix series. The Hextech Expo in Paris also faced disruption, in what appears to be a coordinated effort from key character(s) in the hit series.
The London pop-up saw Piltover, Arcane's City of Progress, showcasing technological advances to the real world, although  the latest stunt sees innovative products stolen from the displays, the shop facade transformed with curated graffiti and a series of props and clues left behind.
Anton Jerges, CEO of Collider said: "It is awesome to be able to work with Riot in both expanding its footprint in the entertainment space and in continuing to drive cultural impact. League of Legends has one of the most dedicated communities in the world and, with this campaign, we really wanted to connect with them in a way that speaks to that, by bringing the universe of League of Legends to the real world. With lots of secrets and clues threaded throughout our whole campaign we are excited to be able to deliver a unique experience and to engage both new and longtime fans of League of Legends with crafted content across digital and analogue channels."
Mark Cox, European Director of Brand for Riot Games said: Arcane is a true love letter to the League of Legends community and for that reason we always knew we wanted to do something big with the launch. We're immensely proud of the work that has gone into the series and how it expands Riot's horizons in the entertainment space, thanks to the efforts of our team in the MENA region we're kicking off our campaign with a takeover of the Burj Khalifa, it doesn't get much bigger than that! We're now looking forward to seeing the vision that we have created with We Are Collider come to life, they have produced a campaign that really does put our community at the heart and have gone deep to deliver a truly authentic player experience.
| | |
| --- | --- |
| City | Window Display |
| Paris | 4 November – 7 November |
| London | 6 November – 9 November |
| Madrid | 8 November – 11 November |
| Istanbul | 11 November – 14 November |
| Singapore | 14 November – 17 November |
| LA | 17 November – 20 November |