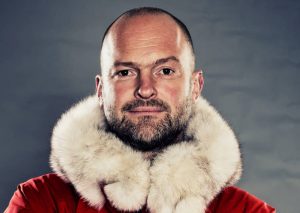 Two years ago, Hugh Robertson completed his expedition with Team Enterprise to the North Pole to raise funds for The Princes Trust. Two years later, he and the rest of the team are heading to The South Pole to raise more funds, this time for The Prince's Trust and The Roundhouse.
The team's expedition to the North Pole in 2015 raised £468,000.  The programmes this supported directly improved the life chances of 250 people in the UK.  This time, thanks to generosity of a number of organisations who have already committed their support they have already raised over £543,000 which has taken them over the £1m raised across these two expeditions.
The team will make their way from London to Santiago, Chile and then on to Punta Arenas at the Southern tip of Chile.  From there they head across the Southern Ocean to Union Glacier in Antarctica before starting their expedition to ski to the South Pole.
Robertson comments: "The expedition is to ski the last hundred kilometres or so to the Geographic South Pole.  Amundsen was the first there in December, 1911, and while we can hardly pretend (or hope!) this expedition is close to the extremes of his or Scott's expeditions we nonetheless will face the same environment, including temperatures which even in the Antarctic summer we can expect to reach minus 50 – before the effect of wind chill.  We are preparing therefore for an arduous but rewarding journey."
The expeditions are a feat for any ordinary person, but Hugh has suffered 30 years of back problems after being paralysed after a rugby accident when he was 16.  He's since had 3 operations and countless procedures making these expeditions major personal goals for the entrepreneur.
"Whilst this expedition will be tough both physically and mentally, I am doing something which I never dreamt would be possible, will drive me forward, as well as raising significant funds for two incredible charities. The simple act of embarking upon this expedition, is the result of seven years of retraining and on-going treatment. The successful completion of this journey is in recognition of and thanks to the hugely talented people whose help, guidance and support have made this possible."
The team will be raising funds for two charities with whom the team has a particular bond, the Prince's Trust and the Roundhouse Trust.
Robertson adds: "These charities share a focus on giving life opportunities to young people, many of whom have faced considerable challenges in their childhoods and early years.  The Prince's Trust focuses in particular on helping young people through supporting their entrepreneurial ideas and plans, while the Roundhouse brings equally transformational opportunities through its very wide programme of arts engagement.  Both have very strong track records of making lasting changes to the lives of many."