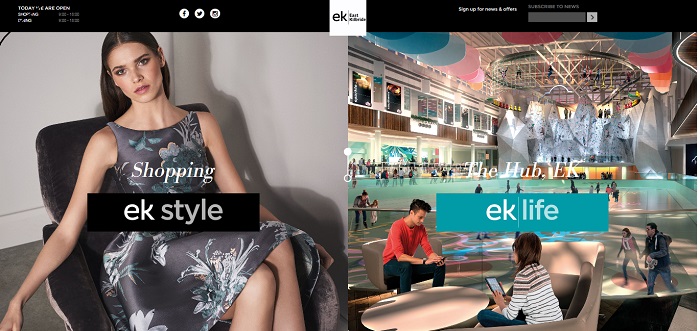 East Kilbride Shopping Centre and its newly redeveloped Hub leisure facilities have been receiving expert venue treatment from tourism web design and digital marketing expert Senshi Digital which has been revamping its online image.
The contract, which is the latest in a run of prestigious business wins for the Glasgow-based brand and marketing specialist, is alerting the public to a range of new leisure facilities now open at the enormous mall, Scotland's largest undercover shopping centre.
It also allows its headline tenants – who include Debenhams, H&M, Zara, JD, Topshop, River Island, Next, M&S and BHS – to access their pages and tailor information about events and promotions.
Chris Torres, director of Senshi Digital, said: "East Kilbride has such a lot going for it. A visitor from America would be very impressed by the number of attractions in the locality and we have treated the shopping centre as a destination venue where people can spend the day.
"There is a mile of mall in the East Kilbride Shopping Centre and more than 180 exciting retail, leisure and catering outlets. It is a tremendous asset to the town and we believe the website we have created showcases the opportunities it offers."
Senshi Digital overhauled the previous website, working in conjunction with Edinburgh based brand experts Threebrand, to highlight more effectively the new upgraded facilities and to feature the multiplex cinema and gym.
The contract award coincided with a similar contract win by Senshi Digital at Santa Park, one of the biggest Lapland experiences in Finland. The company is also technology partner of US-based Gray Line, the oldest and largest tour operator in the world.
Senshi Digital beat off competition from other, much bigger agencies in Glasgow to win the East Kilbride Shopping Centre business, with a pitch which included a tailored, glossy brochure of proposals.
Mr. Torres said: "The centre bought into the vision we had for it and our team got on really well with them. It was as if we had known them for years.
"With our new proposals, the tenants in the centre can edit their own content and the shopping centre's users will be able to interact with it and be alerted to events."