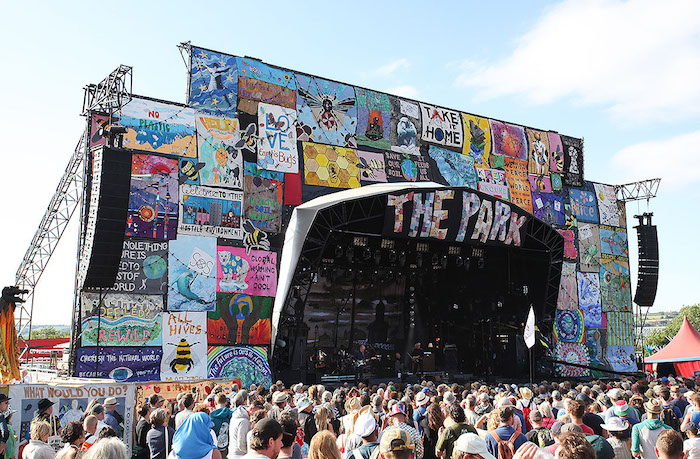 Serious introduced new scenic elements to Glastonbury's Park Stage, along with Pyramid, The Other and West Holts festival stages, with over 60 site structures across a sun-drenched Worthy Farm, June 26-30 June, 2019.
The Serious Stages Glastonbury story spans thirty-five years, having supported neighbour Michael Eavis since the early eighties. When the first Pyramid Stage burnt down just over a week ahead of the festival in 1994, Serious supplied the replacement main stage and have built stages on site for every festival since. Roll on to 2019 and Serious brought the permanent iconic Pyramid stage steel frame to life once again, providing all of the stage decking and loading bays, broadcast camera runs, VIP viewing platforms – all flanked by giant pa and screen steel truss goalposts. In front of the stage there were broadcast camera platforms, eight PA delay towers, two front of house structures, two spot pods, and an assisted viewing platform (AVP).

Following Glastonbury's 2018 year off, the biggest development in 2019 was the innovative doubleheader steel truss introduced to extend the 16m Supernova Park Stage. This gave a 31m wide by 15m high frontage, engineered by Serious, to give designer Misty Buckley a huge canvas to create a 'street art graffiti wall' in touch with Glastonbury's environmental messaging. This Serious front of House tower was also graffiti'd and Serious provided engineering to support the gold and silver 'Welcome Pillars' and mirrored flower boxes featured in the scenic elements of The Park.

Serious Stages project manager Simon Fursman comments: "While we are very proud of our steel stages we are also keen to support creative designers who want to cover them and dress them to create their own festival identity, such as Glastonbury has. In particular with the new-look Park Stage extension this year.

"Sited above the Park Stage is the vibrant 17m tall Ribbon Tower, which has a Serious steel core, next to two bespoke buildings, which have been clad and dressed very differently to become the BBC Studio and Humble Well Tree Temple. We're happy to be hidden away – and it was also a definite 'cheers' to the team in the themed Tricket's Bar – the highest bar on site sitting on a Serious substructure looking over the whole festival."

Simon oversaw the project, from the first Serious steel arriving on site early April, to managing an on-site team of up to sixty professionals installing infrastructure in the weeks prior to opening – through to clearing the site in July. This included constructing the TZ four tower roof for the Other stage, adorned by the insect rebellion bespoke artwork header and flanked by Serious steel truss goalposts, with camera platforms, front of house tower and AVP's. The stage was host to a number of energetic performances from the likes of Chemical Brothers, Tame Impala and Christine and the Queens.
A Supernova festival stage was also supplied for the popular West Holts stage, which saw performances from Wu-Tang Clan, Janelle Monae and Jorja Smith wow the crowds.

Stage decking was installed for a range of indoor venues including John Peel Stage, four venues within Silver Hayes and Leftfield, along with retail outlets such as Lulu's café and over 60 site structures including AVP's and pyro towers for the new Arcadia Pangea area.