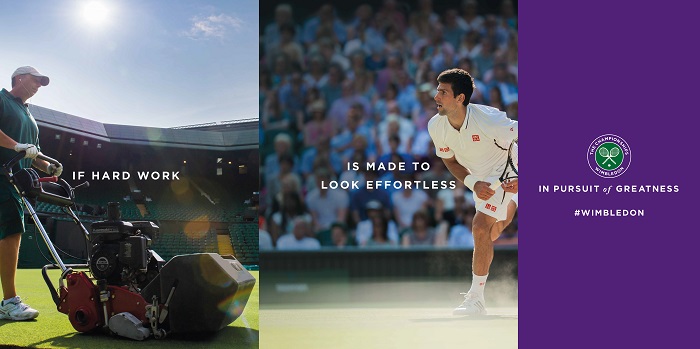 The All England Lawn Tennis Club (AELTC) is welcoming thousands of visitors to Wimbledon 2016 with a live campaign that connects with the ongoing ambition to be the greatest tennis tournament on the planet. Creative agency, Space, has leveraged 'In Pursuit of Greatness', the tournament's new global proposition, to build excitement and anticipation for fans from the minute they arrive.
Space, which has worked with AELTC for the past five tournaments, has again explored the official Club archives to select imagery that brings to life Wimbledon's obsession for greatness.
Featuring tennis greats, both legends of the game and current top players, the campaign also highlights the officials and Wimbledon staff who make the tournament what it is today.  The work emphasises the importance of continual improvements in the 50 weeks of preparation each year to create the perfect event for players and visitors.
Inspirational dual messaging is used on a range of outdoor media placements. Examples include: 'If perfection takes time… but can pass in an instant' featuring a floored Djokovic, and 'If tradition is respected… as much as innovation' showing a coin toss and a fan checking the Wimbledon app.
The range of media placements will include the famous Wimbledon Queue as well as traditional outdoor media sites, free standing displays, structural walkways and gateway arches. Space has devised site-specific material for the two main stations that welcome the bulk of fans to the tournament – Wimbledon and Southfields.
Visitors encounter the campaign from the moment they exit the trains and tubes at Wimbledon and Southfields Stations. As well as providing the first taste of the tournament, the signage ensures that fans can easily find their way to the All England Club.
Hundreds of thousands of tennis fans who queue for tickets will experience In Pursuit of Greatness in the famous Wimbledon Queue, walkways, and on the Championship Lawn which plays host to Wimbledon Partners outside the main grounds. Space has worked to incorporate partner branding into the media sites.
James Ralley, head of marketing and commercial at the AELTC said: "We want to create anticipation and buzz among our visitors from the moment they arrive in SW19. Space has once again taken some of the iconic Wimbledon moments and teamed them with the traditions and the behind-the-scenes heroes who make the tournament happen leveraging our global positioning of 'In Pursuit of Greatness'."
David Atkinson, managing partner at Space, said: "We are privileged to continue our relationship with the AELTC. The agency has leveraged the new 'In Pursuit of Greatness' brand platform to create a campaign that evidences the many areas that the AELTC focus on to continually improve The Championships. Tennis fans have a special and intimate relationship with the history and tradition of Wimbledon, and having access to the AELTC's archives has allowed us to do justice to the new proposition."