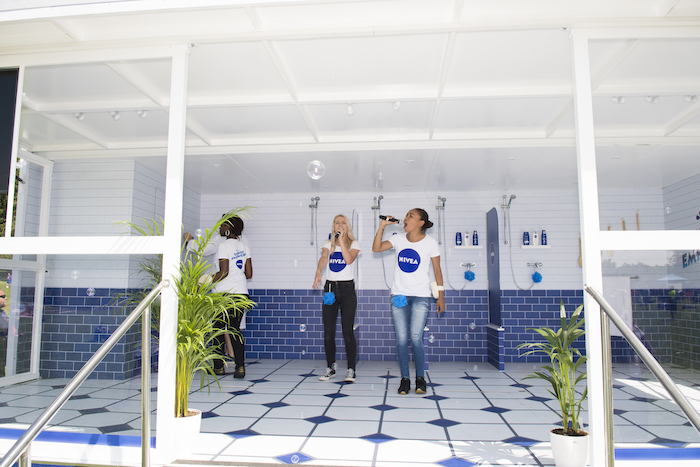 Creative agency Space has teamed up with Nivea to create 'Shower Empowered" a liberating and immersive 'shower karaoke' experience as part of the skin care brand's partnership with Cancer Research UK's Race for Life.
The campaign will drive awareness of NIivea's shower and body care ranges by engaging consumers in a fun and celebratory experience.
To bring the campaign to life, Space has built a large portable dry shower unit where both participants and supporters can celebrate their achievements by getting into the shower and belting out a specially curated list of empowering songs – such as Cyndi Lauper's Girls Just Wanna Have Fun and Queen's Don't Stop Me Now.
Participants will sing into microphones specially designed to look like Nivea shower bottles while photographs will be taken of their performances. Everyone who takes part will receive a Nivea sample bag and coupon. They will also be given a QR code flyer which they can use to find their photo from the experience.
Claire Marlow, brand manager at Nivea, says; "Race for Life are fantastic events that raise money to help fund research into over 200 types of cancer. We wanted to add some extra celebration and feeling of empowerment for people taking part. And a mass shower karaoke felt like the perfect way to give participants and supporters a day to remember and the chance to sing their hearts out."
David Atkinson, managing partner at Space, adds; "We're all extremely proud to have created an experience that not only celebrates Race for Life but also enables the Nivea brand to add to the day. The events are already a collective experience and our 'Shower Empowered' activation extends this."
The first empowered shower took place at Crystal Palace with people jumping into the shower after crossing the finish line. It will now travel to Race for Life events in Birmingham, Cardiff, Exeter, York, and Edinburgh, estimated to reach a total of 30,000 participants this summer.
Niivea has a longstanding relationship with Cancer Research UK through its sun cream brands, first working together in 2012 with the aim of raising millions for the charity's life-saving research, specifically supporting skin cancer research. This campaign is the first time Nivea's broader range of shower and bodycare products have been involved.