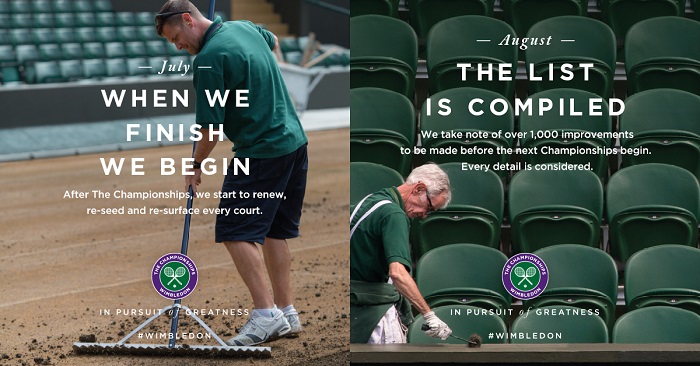 Creative agency Space has unveiled a new outdoor arrivals campaign for The Wimbledon Championships.
Inspired by 'In Pursuit of Greatness' Wimbledon's global proposition for The Championships, Space has created a campaign to welcome thousands of visitors to SW19 to build a sense of anticipation for the day ahead. The 2017 campaign celebrates the year-round efforts of The Championships team – from the groundsmen and gardeners, to the ballboys and ballgirls.
The campaign illustrates how preparations for The Championships start as soon as the previous year's tournament ends ('when we finish, we begin'), through the toil of winter and the optimism of spring, to the excitement and finishing touches of summer ('preparation is over').
The visually striking campaign begins from the moment a visitor arrives at Wimbledon or Southfields stations, and continues along to the famous Wimbledon Queue and into the AELTC Grounds, including the 40-metre long frame alongside the Court 12 walkway, and the perimeter of Aorangi Park next to No.1 Court.
Space has also been working with official suppliers Häagen Dazs and Lanson, to maximise their activation around The Championships.
James Ralley, head of commercial and marketing at the AELTC, said: "The visitor arrivals campaign created by Space tells the story of the dedication shown by The Championships team to create the best possible Championships Fortnight in a compelling way."
David Atkinson, managing partner at Space, said: "We're hugely excited to reveal our sixth Wimbledon Arrivals campaign. This year we feel that the celebration of the often-hidden efforts of the thousands of staff at The Championships, reveals how they have established The Championships as one of the greatest sporting events in the world. It's hugely satisfying that first-time visitors to The Championships, and those who return year on year, see the development of our work as they arrive excited and full of anticipation for the day ahead. With this comes responsibility to make sure that we capture that mindset with the story that we tell. We hope 2017 is a vintage year in the making."