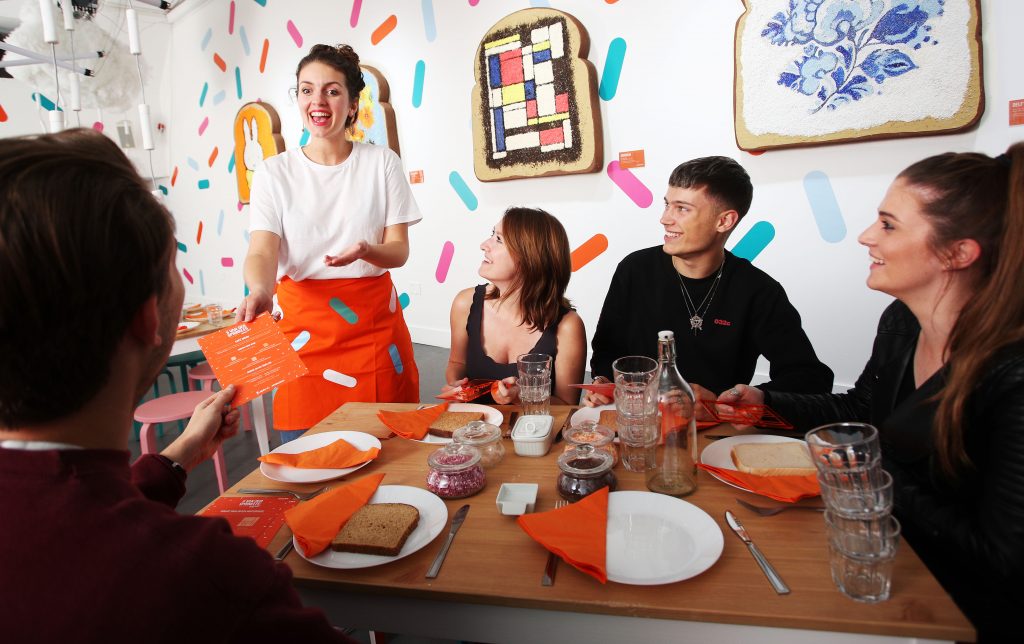 This weekend easyJet opened the doors on Dutch culture by launching new pop-up 'Café van der Sprinkles' in The White Space, Leicester Square, London. The activation will gave people the opportunity to experience the traditional sweet delicacy 'Broodje Hagelslag'.
Over 14 million kilos of Hagelslag (known as fairy bread in the UK) is consumed by hundreds and thousands of Dutch people every year. Commonly enjoyed at breakfast, broodje hagelslag is typically butter spread on bread which is then covered in sprinkles. EasyJet says this sweet treat explains why the country ranks so highly on the World Happiness Index.
Low-cost airline easyJet have partnered with the Netherlands Board of Tourism and Conventions, to transport the people of London on a journey to Holland to experience a taste of Dutch happiness along with a selection of sweet delights from Friday through to 5pm on Sunday evening.
Upon entering through a plane door, visitors found themselves in the brightly decorated Sprinkle Café. Guests ordered from the 'DIY sprinkle menu' choosing their preferred base, types of sprinkles and Dutch art template, giving them the opportunity to create their own masterpiece such as Van Gogh's Sunflowers.
Alongside the sprinkle café guests were able to; immerse themselves in edible Dutch art masterpieces created by food influencers The Meringue Girls and enjoy fashion forward sprinkle beauty treatments. The range of sprinkle delights on offer at the event, highlight some of the experiences that Holland has to offer beyond Amsterdam, from popular cities such as Eindhoven, Rotterdam and The Hague.
Artistic and colourful beyond belief, the café was the perfect place to get pictures that will cause pure Instagram envy. Guests also had the opportunity to win flights to Holland and can enter by sharing their snaps on social media with the official hashtag #SprinklesCafé.
The campaign was created by easyJet's creative agency VCCP with PR agency Taylor Herring who are worked alongside events agency Bearded Kitten to deliver production elements.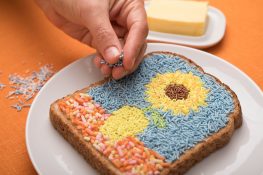 Reviewing the Café for Fieldmarketing.com, editorial director Frank Wainwright commented, "This certainly was a colourful experience that felt very on brand for easyJet and had very strong production values. I imagine the press coverage will be good and the whole event was strongly 'Instagramable'. Bearded Kitten impressed, as they often do, for staffing the event with energy and theatrics. We particularly enjoyed the performing tulip, for was, to coin a previously little used phrase 'festooned in tulips'.
easyJet flies to Amsterdam Airport Schiphol, the gateway to Holland, up to 36 times a day from airports across the UK, from £29.99.