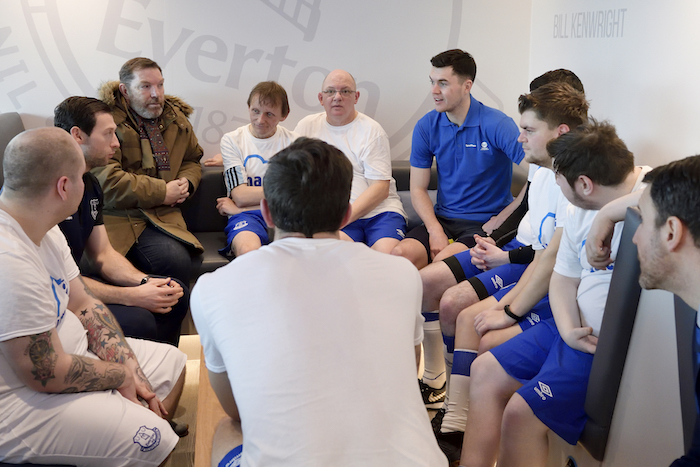 Everton in the Community has joined forces with the Blues Principal Partner, SportPesa, in a partnership that will see them become an Official Partner of the Club's charitable arm.
The partnership will see SportPesa provide funding for Everton in the Community's long-standing flagship mental health programme 'Imagine Your Goals', which since April 2018 has been funded internally using finite charity resources since it was affected by external NHS budget cuts.
One in four people in the UK will experience a mental health problem each year, while nationally suicide is the leading cause of death for men under the age of 50.
Through its five football therapy sessions each week, Imagine Your Goals has been at the forefront of tackling these issues on Merseyside for over 10 years and supports over 200 individuals each week, offering people who are living with mental health issues an opportunity to talk about their problems and seek help and support in a familiar environment.
Speaking on the new partnership, Everton in the Community CEO Richard Kenyon said: "As a charity we have been delivering mental health provision for over a decade with 'Imagine Your Goals' being one of our flagship programmes. It has been extremely valuable to so many people in our local community but almost a year ago our external funding was cut, which has meant we have been funding it internally through Everton in the Community.
"This partnership with SportPesa means that we can continue with our great work and continue changing people's lives, but it also means we can plan for the future with a sustainable programme moving forward. It's a very important partnership for the charity but more importantly, it's really very valuable to the people it helps every week."
And to see the programmes impact first hand, Everton stars Phil Jagielka, Leighton Baines, Michael Keane and representatives from SportPesa met participants from Imagine Your Goals at USM Finch Farm to find out more about how Everton in the Community has helped change – and even saved – their lives.
The Blues trio spent time managing, and refereeing, a short-sided game between the young men and offering advice on technique and communication before there was the opportunity for the group to have a relaxed discussion about how best to deal with high-pressure situations in their lives before the participants opened up about their battles with mental health and how the Club's official charity has supported them.
Speaking after the session, Blues star Baines said: "Myself and Jags have been involved with this programme in the past and it's always good to catch up with the lads and to hear their stories, real genuine stories about how it's changed their lives so much and in some of their cases, saved their lives. When you get to sit with them and have that conversation it really does bring home the importance of the work that's being done.
"The lads spoke about what the programme gives them on a daily and weekly basis and it's brilliant. It's been great to come down and see the impact it's having."
Echoing his teammate, Jagielka said: "The whole project here is set up to come to you whenever you need support. If you can stop a problem from becoming anything bigger by speaking to your peers or speaking to our staff, then it can help you out massively. We saw today how comfortable everyone is with each other and even how they accepted us into the conversation and shared their moments in their life where it has been really tough and be able to talk about it openly in such a big group, it's amazing."
The partnership will also see SportPesa become a 'Founding Partner' of Everton in the Community's mental-health focused campaign, 'The People's Place', which will see the charity build and develop a purpose-built mental health facility close to Goodison Park to support anyone in need.
And, in addition to a financial contribution to The People's Place, SportPesa have created 'Goals That Give', a new initiative that will see them donate £1,000 for every Everton goal scored at Goodison Park for the entire length of the partnership. This money will be backdated to the start of the 2018-19 season and will include the goals scored against Gor Mahia in the SportPesa Trophy at Goodison in November bringing the current goal tally to 31.
Everton in the Community CEO Richard Kenyon said: "Poor mental health is becoming more and more of a prominent issue and whilst we already do a lot to address this through the programmes we run, we realised that the need for a physical facility where people can just call in and discuss their needs is vital. We launched a one-million-pound fundraising campaign at the start of the season and having SportPesa join us as a Founding Partner means that we can really build on our plans."
Talking about the importance of 'Goals That Give', Everton defender Keane said: "It's great that SportPesa recognises the benefit of the work the charity does in the community and specifically in the field of mental health and this programme. They've obviously seen the positive impact it has on people and this programme really has helped to save lives.""
Corporate social responsibility is at the heart of SportPesa's values with the organisation already involved in a number of grassroots projects across Africa as the Blues saw first-hand when they visited Tanzania in July 2017. SportPesa's European Headquarters have been based in Liverpool since 2017 and they are keen to build on the work they already do in sport development and local communities globally and have been widely impressed by Everton in the Community and the positive impact the charity has on people across Merseyside and beyond.
Adam Beighton, Director at SportPesa, said: "Giving back and being part of the community is the core value that SportPesa has grown up with since we were first established five years ago. We are very proud of the work that we do in giving back to the community rather than just being a part of it – this is absolutely key in everything we do. To be involved in such a very special project for us is fantastic and we're very proud to be part of Everton in the Community."
The partnership with Everton in the Community will also see SportPesa commit to conducting staff engagement courses across all current and future markets of operations to help educate their staff on mental health wellbeing.
The partnership with Everton in the Community will also see SportPesa commit to conducting staff engagement courses across Kenya, Tanzania and the UK to help educate their staff on mental health wellbeing.