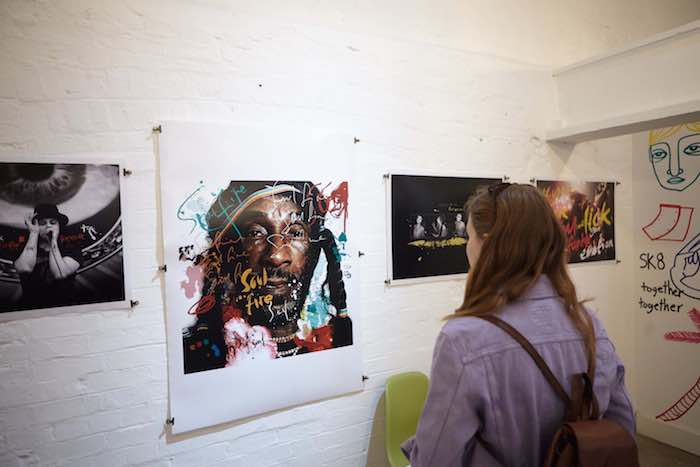 US sock brand, Stance, hosted the launch party for the 'Lend Me Your Ear' collaborative project at their debut store in 3 Neal Street, within the Mercers' estate.
Running from May 23 until June 6, the basement level of the Stance store homes the first look at an on-going collaborative project, 'Lend Me Your Ear,' between music photographer Andrew Cotterill and illustrator Ben Tallon. The exhibition marks a celebration of individuality and self-expression, in association with Young Urban Arts Foundation, and features portraits of globally renowned music artists; such as The Prodigy, Arctic Monkeys, Skepta and Kanye West. Stance marked the exclusive event welcoming special guests, the music and creative industry and music performances.
Following the success of their six-month pop-up with The Mercers' Company, Stance has now officially signed for a permanent lease at 3 Neal Street.
Simon Taylor, property director of The Mercers' Company said:"Stance's successful conversion to a permanent store is an ideal home for this exciting initiative. Last night's event highlighted the level of high-calibre, on-trend brands we have on the estate, who evidently have the scope to attract collaborations with creative and dynamic projects. Stance has brought a unique and energetic element to the heart of Covent Garden and we are very pleased to welcome them as a permanent tenant within our estate."
Rich Philip, director of marketing at Stance Europe comments: "Our concept store in Covent Garden has been so popular that we decided to make this a long-term lease, and with that, we've had the opportunity to celebrate our store with this impressive music collaboration. The 'Lend Me Your Ear' exhibition really resonates with the creative and urban spirit inherent in our brand. The event was a great kick-start to what we hope will be two weeks of music lovers coming in store to see some fantastic art and our music inspired product collection."
The event follows recent news of Pineapple clothing and dancewear brand relocating its flagship store to 8 Mercer Walk, in addition to the signing of retailers Vans and Boots, both due to open in the summer.