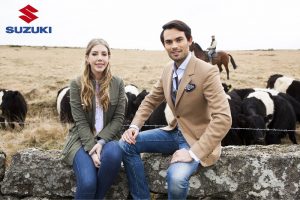 the7stars has forged a new partnership for Suzuki together with Channel 4 and content agency The Outfit, in order to appeal to a younger audience in support of the manufacturer's latest model, the Suzuki Ignis.
Launching across TV and digital, the creative campaign #IgnisAdventure has been filmed in the style of a mini content series that rolls out in May airtime within Channel 4 and E4's peak time schedules. The first 60" spot will be revealed during a premiere break in Channel 4's Friday night show Gogglebox on May 12. Alongside the TV spots there will be a complimentary influencer campaign to boost the social media drive, all designed to appeal to a younger audience.
The TV ads follow the adventure of Comedian Katherine Ryan and Made in Chelsea star Mark Francis as they are dropped at an undisclosed location, tasked with finding their way back to the comforts of home in a Suzuki Ignis, with only each other for guidance.
Alongside the TV spots, Suzuki will be releasing updates of the #IgnisAdventure story on its social channels, including behind the scenes clips, with a teaser being released on May 11. Katherine and Mark will also reveal exclusive content through their own social channels.
Suzuki will challenge the two influencers, Grace Bruce and Lucy Wyndham Read, to mirror the TV spots by documenting their own #IgnisAdventure, which will be shared on Suzuki's social media networks, as well as their own.
The partnership with Channel 4 was negotiated by Lucy Hughes, group partnerships manager, 4 Sales and Rachel Courtney, Head of Partnerships, the7stars.
Jodie Brooke, communications manager, Suzuki, said: "Our new model, the Suzuki Ignis, is small and mighty but packed with personality. As such we want to appeal to a wider audience, expanding from family fun to engage with not just a younger audience, but one with a keen sense of adventure. Who better to demonstrate this than two of the biggest personalities on Channel 4 and E4?"
Rachel Courtney, head of partnerships, the7stars, said: "We're really excited about the launch of the #IgnisAdventure series.  It's an innovative collaboration between partners that allows us to showcase the new model in a humorous and shareable way."
Angus Mitchell, agency principal, Channel 4, said: "We are delighted to be working with Suzuki for the first time in creating a really innovative partnership that taps into Channel 4 and E4's unique relationship with young audiences. The big personality of the Ignis aligns perfectly with E4's fun and irreverent tone delivering scale and the perfect environment for Suzuki."
Charlie Read, founding partner, The Outfit, said: "Suzuki has a genuine entertainment-first approach to its marketing.  It's been exciting to bring the brand and Channel 4 talent together to create a deeper partnership with a younger demographic by creating a joined up content campaign."