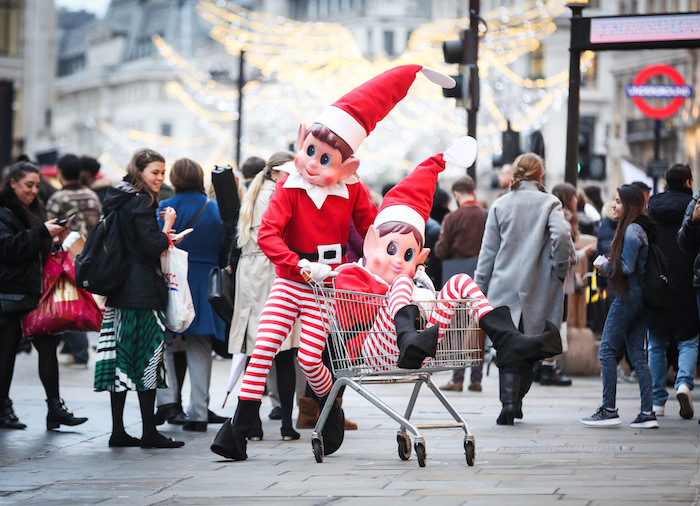 Two giant elves were spotted causing mischief on the streets of London  as commuters and tourists witnessed the pair pushing each other down Oxford Street in a shopping trolley.
The elves, fuelled on eggnog, were later seen being thrown out of Harrods by security and were pulled up by police in Regent Street.
A video has emerged online, which was shared on Twitter, of the elves getting into a drunken spat with a man dressed as Santa Claus outside a pub in Soho.
Argy-bargy kicked off in front of pub-goers in the West End and the short clip shows one of the elves pulling Santa's trousers down in the middle of the street. The video has been viewed over 20,000 times since it was released online.
The stunt was pulled by UK toy brand Elves Behavin' Badly who created two larger than life elf costumes based on their best-selling dolls 'Elfie' and 'Elvie'. The stunt was devised by Taylor Herring and production managed by St Marks Studios.
The festive brand is currently encouraging families to share pictures of their badly-behaved elves using the hashtag #ElvesBehavinBadly as part of a social media competition.
Commenting on the events, Paul Beverley, managing director at PMS International Group PLC, said: "Our elves took to the streets of London with a little too much Christmas cheer in their bellies. Their raucous antics are just part of their nature and there really is no excuse for pulling down Santa's pants."
In the lead up to Christmas we hope parents and children alike will get involved with sharing pictures of their own elf mischief on social media, and be in with a chance of winning a prize every week."