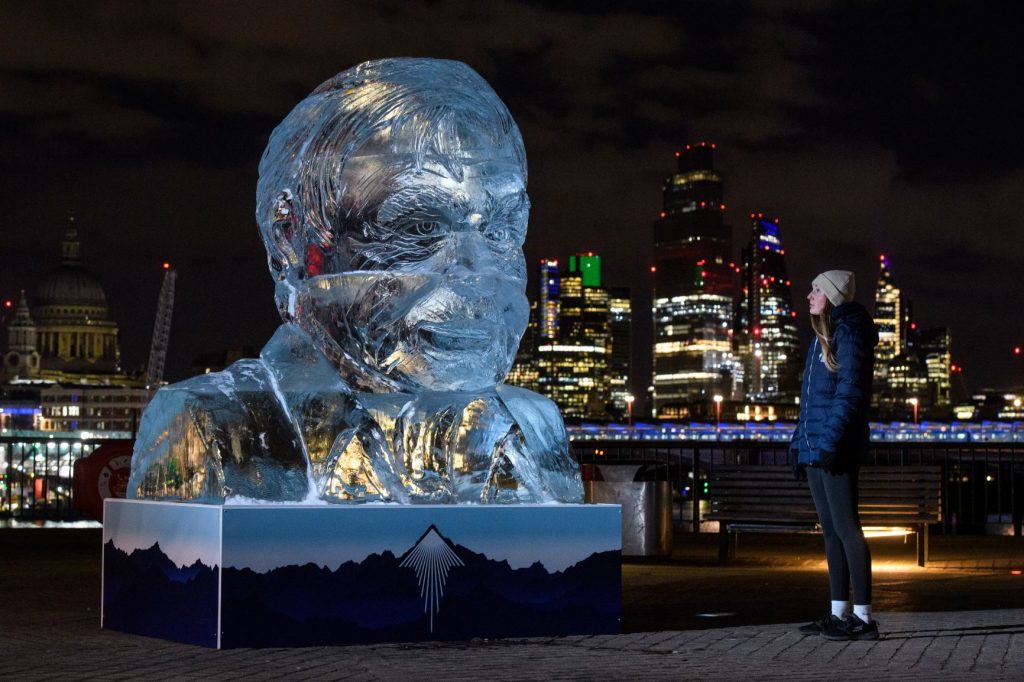 Tenzing, the British plant-based drink company, has carbon negative and has launched a six-point plan that provides people with accessible and measurable tools to help make environmental changes, from a personalised carbon footprint calculator to making its community carbon neutral.
The company has  also saved 28.5 tonnes of CO2 by switching its production from Holland to the UK.
The company marked the launch of its sustainability initiative, Tenzing Take Action, by commissioning a 5m3 ice sculpture of Sir David Attenborough in London – Europe's most polluted city – and equivalent to the amount of Arctic sea ice melt cause in just one fortnight by an average UK person's carbon footprint.
In December, Sir David Attenborough took to Instagram to announce that "saving our planet is now a communications challenge". Tenzing was inspired by his message and decided to take on his challenge to fight climate change and help get the message out there.
In line with the latest government advice Tenzing urged people to stay at home, but to not ignore the climate crisis – Take Action. The pandemic can be a catalyst for positive change that will safeguard the environment – it is a personal opportunity for us to re-evaluate our lifestyle choices and for businesses to reset and re-evaluate after seismic disruption. To understand the full scale of personal impact, people can view the sculpture of Britain's favourite naturalist via – www.tenzingnaturalenergy.com and Instagram @Tenzing.
Huib van Bockel, Founder, Tenzing comments, "Every individual has the ability to make a difference and the cool thing is, if we all take responsibility, the impact will be huge. In our case, this means offsetting more carbon than we emit whilst making our community carbon neutral too. "Tenzing Take Action is about taking direct responsibility. That's why we're carbon negative and providing people with the tools to understand their personal impact."
Business commitments
Turning carbon negative – Tenzing is a member of Planet Mark having committed to measuring and reducing its carbon emissions
Shift to UK production
Local offsetting initiatives – a unique approach to offsetting what cannot be reduced
Carbon Footprint labelling – Tenzing is a member of the CarbonCloud community and hopes to set a new standard by giving people the means to make sustainable decisions through clear carbon footprint labelling Community commitments
Community commitments  
Launching a Carbon Footprint Calculator
Making subscribers carbon neutral
Funding world leading air pollution research at Imperial College London* and continuing to develop the Tenzing Clean Air Tracker
Steve Malkin, CEO and Founder of Planet Mark, commented – "With or without the COVID-19 pandemic, the climate crisis is a reality that can no longer be put on hold. The time to take action is now, and businesses have an important role to play. Commitments by businesses, like Tenzing, to continuously improve and encourage action within their own community is how we will collectively tackle this crisis
Launched in 2016, founder Huib Van Bockel (a former Red Bull Marketing Director) set out on a mission to disrupt the category by launching this plant-based, low calorie and environmentally friendly energy drink.