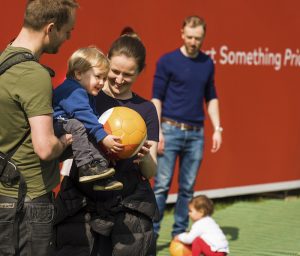 Mastercard kicked off the first activation of its new global brand platform, Start Something Priceless, in London in early April. The activation celebrates the brand's belief that a ball can Start Something Priceless by bringing families together to create special moments and unique memories.
As part of Mastercard's sponsorship of UEFA Champions League, McCann London created an activation in Walpole Park, Ealing, on Saturday 14 April that demonstrates Mastercard's belief and inspires families across the country to play together more. In the heart of this public space, a giant wall (10m x 2.7m x 3m) distributed footballs to passers-by, encouraging families to approach the wall, take a ball and Start Something Priceless themselves.
Each time a ball was taken from one of the portholes running across the brightly-coloured installation, a new one magically appeared in its place, ready for the next claimant. 1,000 exclusive Mastercard and UEFA Champions League branded balls were given away throughout the day.
Following research that shows parents are often unable to spend as much quality time with their children as they would like, This campaign uses football to bring families together, encouraging people to have a kick around in the green space around them. The wall features side panels offering background information on the campaign and how a simple ball has the power to create countless priceless moments for families.
A social media campaign of short, shareable clips of activation footage with the aim of inspiring families across the UK to Start Something Priceless with a ball themselves, will launch around the UEFA Champions League semi-finals. This forms part of the wider "a ball can Start Something Priceless" campaign for Mastercard, which also features its priceless mascot experiences and story-telling content targeting families.
Kirsty Redfearn, head of consumer marketing, Mastercard UK & Ireland said: "Since 1994, we've been helping football fans get closer to the game they love as part of our association with the Champions League. Excitingly, our Priceless marketing platform has evolved over recent months to encourage people to 'Start Something Priceless'. Modern life and technology can sometimes get in the way of family time, so we wanted to celebrate the fact that one of the simplest things in the world – a ball – is fun but also has the power to forge friendships, to inspire and to stir emotions, and of course Start Something Priceless. This allows us to celebrate our sponsorship of the UEFA Champions League, give us an emotional connection to the tournament, and make memories."
Chad Warner, integrated creative director, McCann London, said: "This is just a wonderfully simple idea to show the power a single football can have on the everyday. The creative twist of the wall magically reloading itself brings just that added playfulness and nudge that's at the heart of Start Something Priceless."