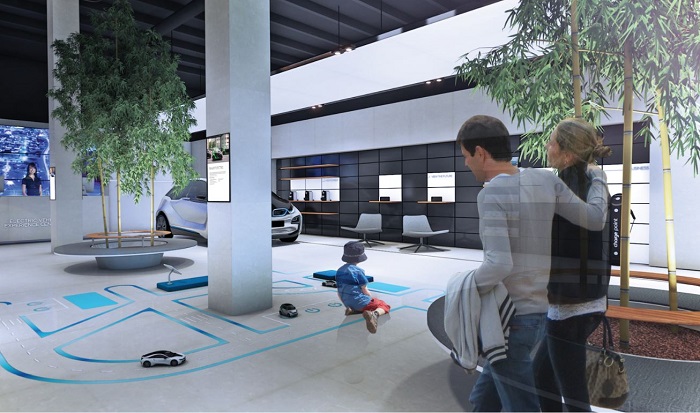 Following a competitive pitch, the retail division of experience agency TRO has been appointed to deliver the UK's first ever Electric Vehicle Experience Centre, in partnership with Chargemaster.
Launching Spring 2017 in Milton Keynes, the EV Centre will unlock the true potential of electric vehicle ownership for consumers, to educate and inspire shoppers. The first of its kind, multi-brand showroom presents a unique concept, offering truly impartial advice to shoppers by highly trained independent professionals.
TRO is responsible for the design and production of the EV Experience Centre, which will feature a number of engaging technologies to enrich shoppers' showroom experience. Ben Taylor, retail director at TRO, commented: "We are thrilled to be spearheading this innovative initiative in partnership with Chargemaster. The new store reflects the automotive industry landscape and the dramatic increase of consumer interest in electric cars – plug in power models are appealing not just to dedicated environmentalists but a much more mainstream audience. The project embodies several areas of TRO's capabilities – melding our expertise in retail, automotive and digital spheres."
Chargemaster is responsible for the running and management of the store for its five-year duration. David Martell, Chargemaster CEO, said: "Being part of such a high-profile and diverse project is very exciting for Chargemaster. The centre will be the first of its kind and we are sure it will pave the way for other cities to follow. We are looking forward to welcoming Milton Keynes shoppers and showing them everything that going green has to offer."
The ground-breaking EV Experience Centre is to be delivered as part of Milton Keynes' £9 million 'Go Ultra Low' Cities programme, which encourages the uptake of low emission vehicles – with a target of 23% of all car sales being electric or plug-in by 2021.