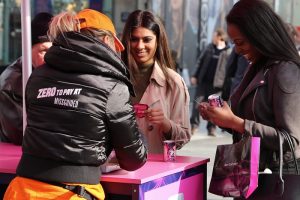 Lucozade Zero and fashion retailer Missguided has announced a collaboration, which will be brought to life through on-pack promotion and experiential marketing.
TRO is activating a multi-faceted campaign entitled 'Zero to Pay', which will offer consumers a multitude of perks, giveaways and discounts – all of which can be unlocked through an on-pack promotion on mini cans of Lucozade Zero. With product trial at the campaign's core, the nationwide programme will be bolstered through experiential activity, spanning 12 cities over the course of 8 weeks.
Targeting city centres, train stations and shopping centres, the sampling campaign will offer bespoke miniature cans featuring unique Missguided discount codes. The activity will be bolstered at the high footfall locations with a bold 'Zero to Pay' nail bar, offering Lucozade Zero inspired complimentary nail art.
The official collaboration launch took place on Thursday 30th March at the Missguided flagship store in Westfield Stratford, London. With Resident Missguided DJ, Snoochie Shy on the decks, the in-store event will provide the ultimate shopping experience with free personal styling tips, makeovers and 'zero to pay' opportunities to win Missguided collection items.
Charlotte Flook, senior brand manager, Lucozade Energy commented "With a shared target audience of young, fashion savvy females, the partnership with Missguided presents fantastic brand synergy. TRO has designed a bold liquid on lips campaign which will achieve mass trial and get consumers excited about the product."
Siôn Stansfield, account director, TRO, said "Following the success of our 'zero gravity' experiential activation for the Lucozade Zero product launch last summer, we're excited to be activating a whole host of activity to reach the hearts and minds of the product's target audience. With the product at the heart of the campaign, we have an ambitious target of distributing 3 million samples."
The Lucozade Missguided 'Zero to Pay' campaign runs from now until the end of May 2017.